This weekend we went out to celebrate my birthday from last Sunday. I got so much knitting stuff for my birthday. It was heavenly hehe. We went to the barn sale that's up the road. They are open every weekend during the summer. An old couple run it and the lady must knit or have a yarn buying obsession. She has tons and tons of bags of yarn on this big wooden table. She groups them all together in the bags sometimes by colour or sometimes randomly. These bags are so so cheap. The first three photos of yarn that you see here are what I got on my trip there. I got 4 bags of yarn for $9. What a bargain. The man was telling me that their attic is full of even more yarn that she wants to get rid of. Of course my little eyes lit up and I told him I would definitely be back to scoop up some more. I got some at this place last year for my birthday so I think this will have to become a tradition hehe. Now what to make with all this yarn, hmmm the mind is a ticking.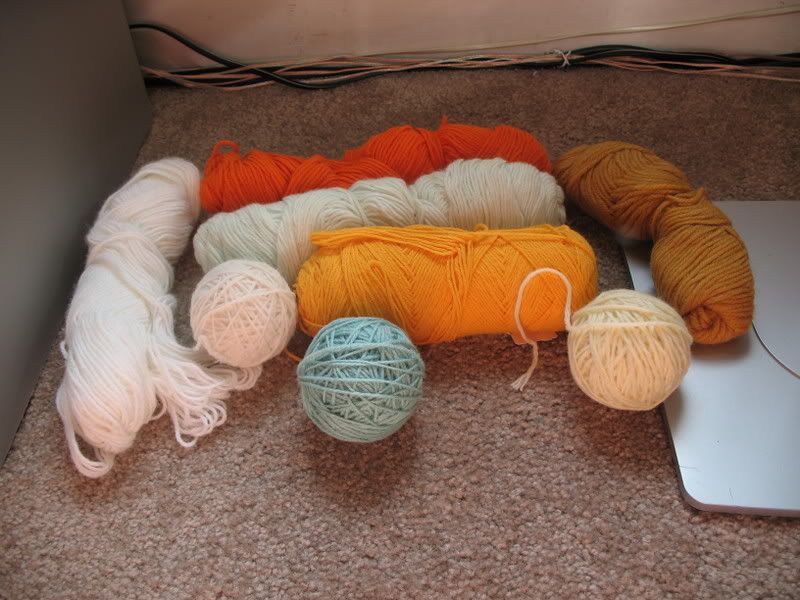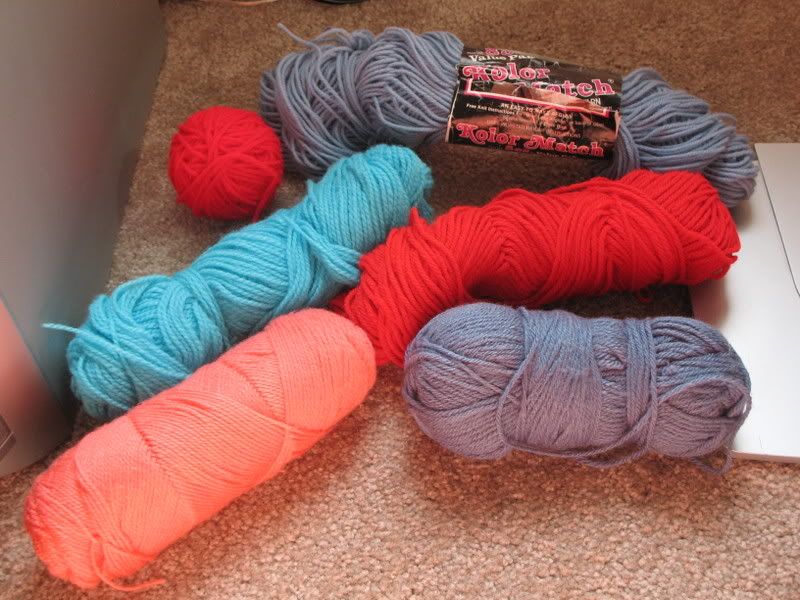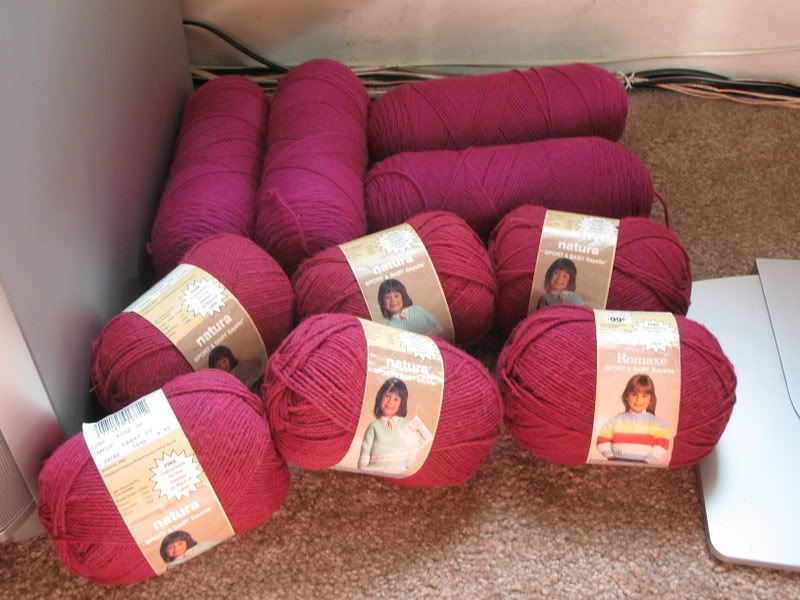 The yarn buying didnt stop there. For my birthday my husband gave me $30 to spend on my Etsy.com favourites list. After agonizing for 2 hours on what to buy, I finally made my choices. I have already received the teal mohair yarn that I ordered plus a very cute teddy bear knitting pattern with a cardigan pattern to knit for him. I still have some cute Beatrix Potter badges and 5 balls of Lion Brand Wool Ease Chunky in dark green. I have a cable bag pattern that I have been dying to try that requires exactly 5 balls. I also managed to save about $50 buying it this way.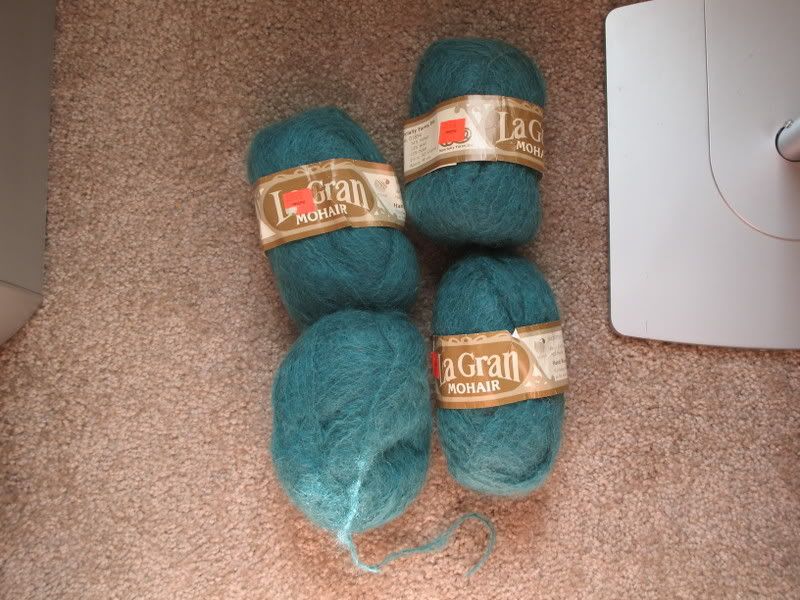 While out shopping on this day I also bought a ball of Caron Simply Soft Bright in Watermelon for the phone cover order that I got last week. I just didnt quite have enough to do the project so I needed more. I finished that order today and Mary Ann picked it up tonight. I also finally managed to get some material for the pink felted messenger bag for my sisters friend. I will have to start work on that this week. This is definitely not to prissy as the last one was. It is just a plain colour that matches the bag. Can you believe it took me about 5 seconds to find this material and it was a quarter of the price of the other material. I just couldnt believe it. I also picked up a roll of pink and white checked ribbon for the baby set I made a couple of weeks ago. I was all happy I could finish that project off and wouldnt you know it, the roll of ribbon has disappeared. I checked our shopping receipt and its definitely on there so somewhere between checking out and coming home it disappeared. Im going to check our car tomorrow and see if it fell out of the bag or something. Fingers crossed it did otherwise I have to go and get another one. How annoying.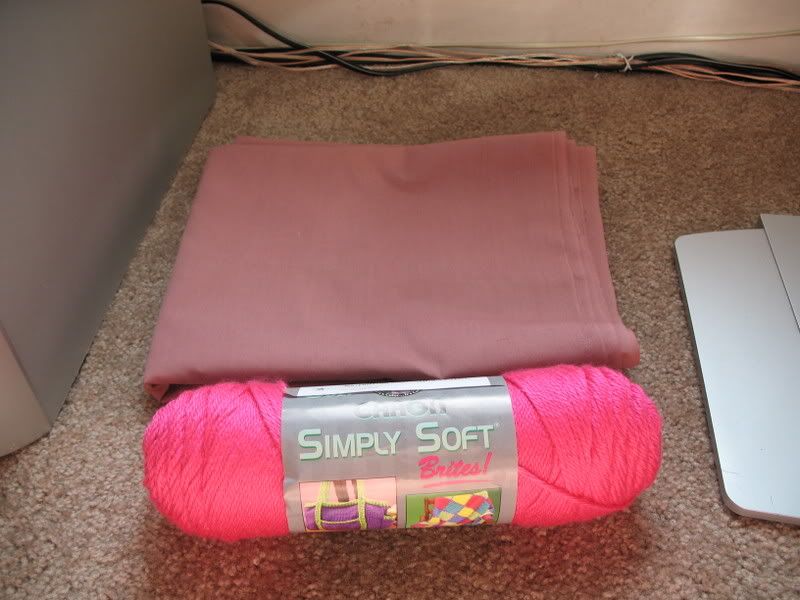 I did get some other yarn on the weekend but my 5 picture limit has been used up so I will have to post them next time. I didnt buy these ones though. My friend Natalie gave them to me to make the baby girl hooded cotton blanket that she wants made. I still have to finish the blue, green and white one first to free up the needles. I figured I got enough yarn at the moment and put the blue, green project on hold until I can get more of it.