You may be wondering where Ive been lately. Ive been busy getting Christmas gifts all knitted up for christmas. Here are a some that are finished.

This black pair of fingerless mittens that have a cable pattern up the centre that you cant see were made for Victoria's bus driver. I gave them to her today. Victoria had fun helping me wrap the present. I hope she likes them.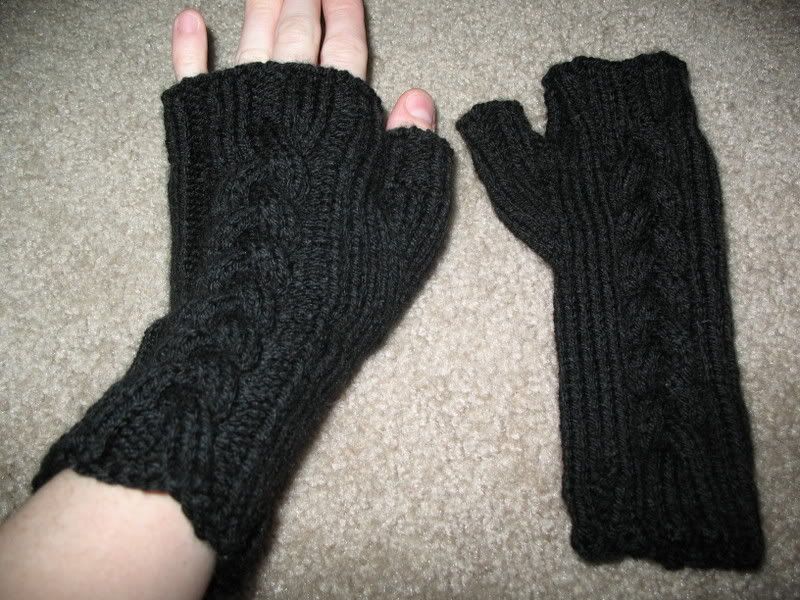 Last week Megan found out for the end of basketball season they go to Pizza Hut and do a sock exchange. I said why dont I make a pair of socks. I can do a pair for about $2 and they will be different from everyone elses. She really liked that idea and told me to pick out yarn with lots of crazy colours in it. This is what I found. I think this is crazy coloured enough, dont you? It was fun knitting with all those colours. I think Megan wanted to keep them for herself. What she doesnt know is that I am knitting her a pair of socks in the same style but in this cool yarn colour that is called Choco Cherry. I am halfway done with one sock so far. I started them last night. I decided the girls are not getting fleece blankets made by me but socks instead. The reason for this was because Megan found a fleece blanket she really liked while shopping so I scrapped the blanket idea. We went to buy the blanket last weekend only to discover they had sold out. Hmmm back to the drawing board on that one.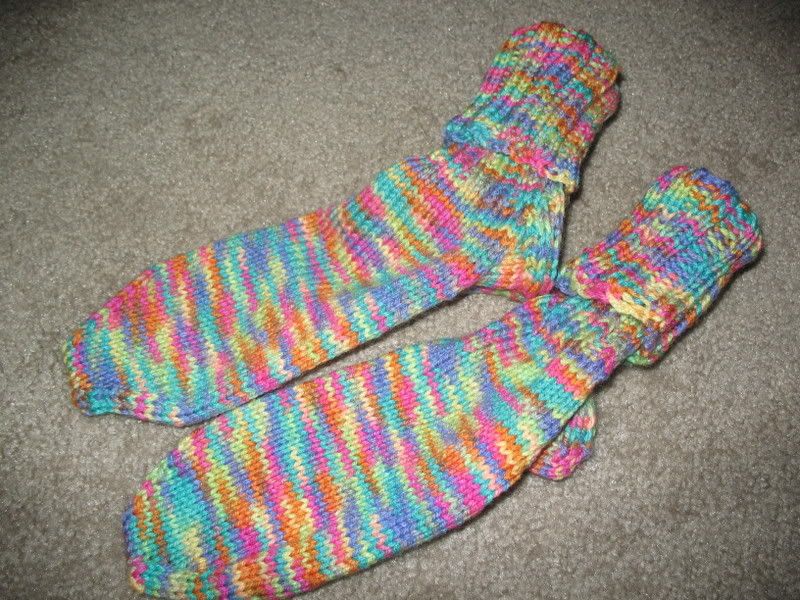 The next three photos are of the scarf that I knitted for Victoria's teacher. I love the colours in this yarn. I want to keep it for myself or get more of this colour if I can find it again.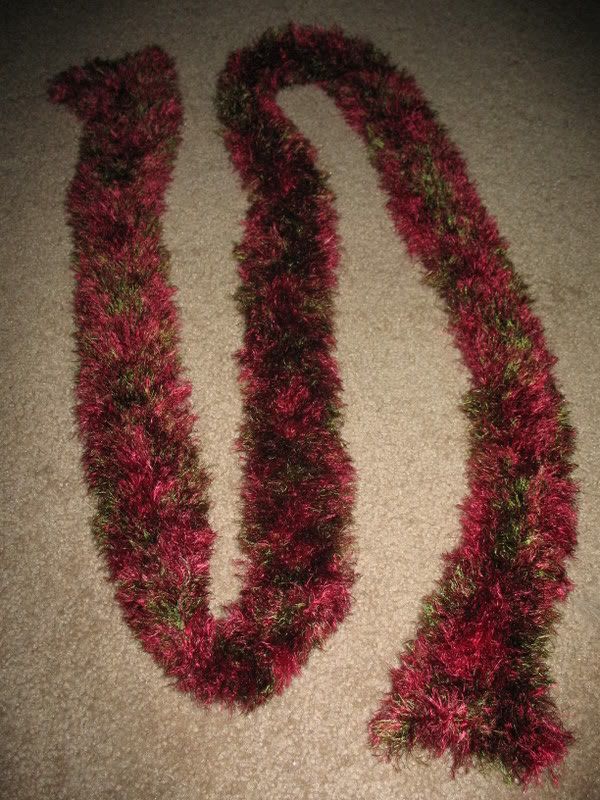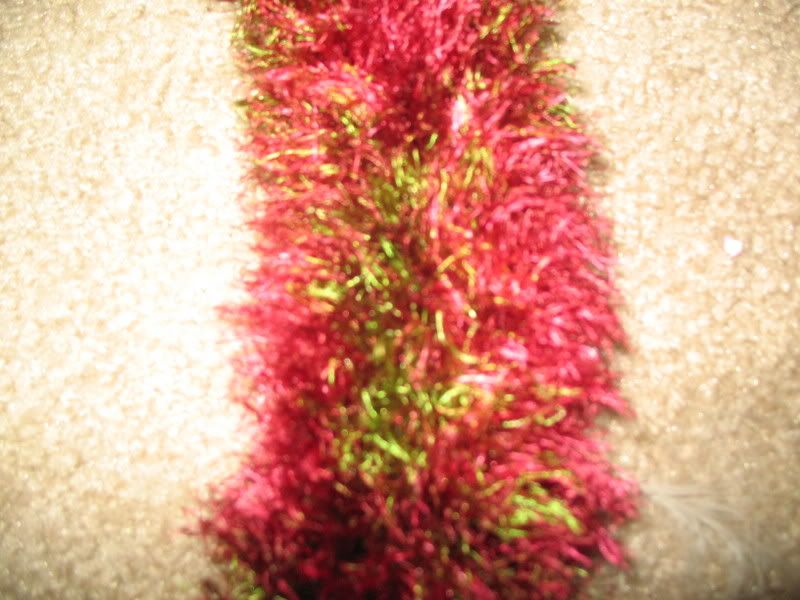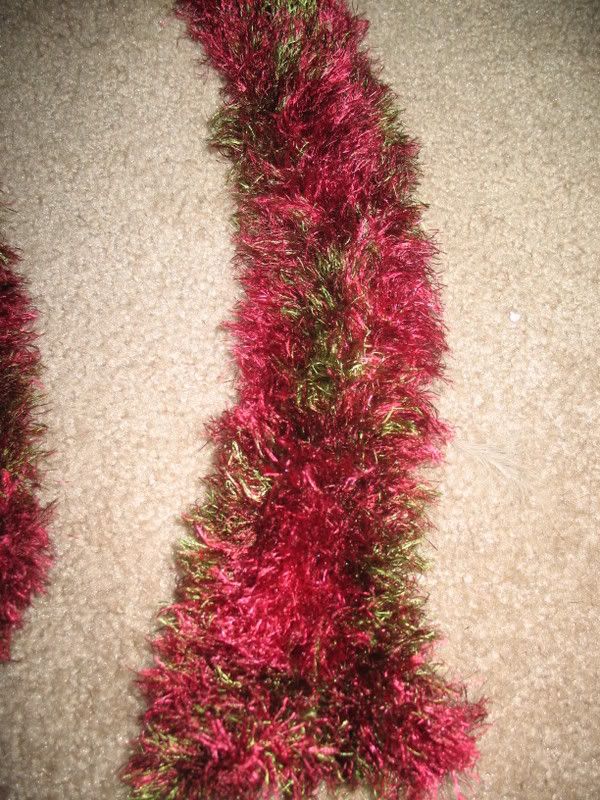 Tonight I am finishing off embellishing the green felted tote bag that is also for Victoria's teacher. I cut out an M from a red felted jumper that I am using for a bag. I appliqued it onto the bag and I just have to put red buttons at the points where the handles meet the bag. I will take a photo of it tomorrow before I wrap it up. I am off to help out for the afternoon at Victoria's class. It should be interesting. The girls and I made cookies to take for the kids as a snack. Peanut Butter cookies and Chocolate Chip Cookies. The Chocolate Chip Cookies came out a bit of a disaster but I think I saved the day a bit. I have no idea why but the bottoms burnt on every one of them even though we followed the directions. While they were still soft I got a knife and cut off the tops of them and threw away the burnt part. Not so pretty looking but at least edible.

To finish off my Christmas knitting I have to finish Megan's socks, make Victoria's socks, finish Lindsey's very soft blue scarf and cut and sew a felted bag. Hmm I think thats all I can think of. I also have to get the house all clean and sparkling for the big family Christmas Eve dinner at our house, make the butterscotch popcorn for the people I am giving it to as a gift and make tons of cookies to try and make up for the lack of cookies that arent here this year because Joe's mum isnt here to feed the cookie monsters hehe. Im sure it will all get done in time if I do it all just right. I am holding off on the cleaning until the weekend because if I do it too early it wont look like I did anything and I will have to do it all over again hehe.

I hope everyone else is having fun with their Christmas preparations. This Friday we are hoping to finish up our Christmas shopping. The girls are so easy to shop for. Our only issue is what to pick out of all the things that they would like. Im sure that whatever they get they will love. Im going to try and get at least one more post in before Christmas with finished projects.

Oh yeah we got a package from my sister today with wrapped Christmas presents in it. It was very hard to put them under the tree and have to wait until Christmas day to unwrap them. My Mums package should be here soon and we will have to do the same thing. It will be worth the wait though. Its so much more meaningful to open them up on the day. Its kind of like they are here when we wait for Christmas Day. They would kick our butts if we opened them early anyway hehehe.