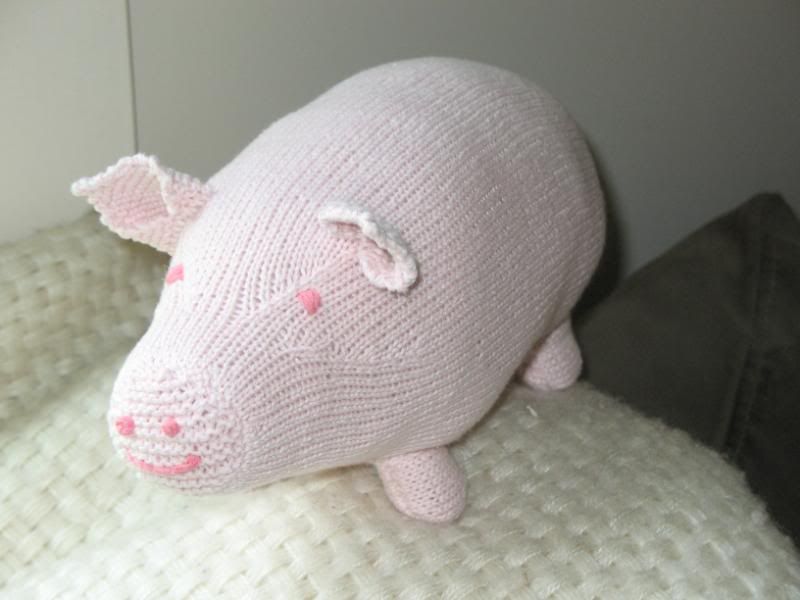 This week so far I have finished two projects. I borrowed a book from the library called Knitted Toys by Fiona McTague. It has many great patterns in it that I would love to try. My first project from this book is my little pink piggy. Actually he's not that little. From snout to butt he probably measured about 10 inches. I knitted him from cotton yarn I got from an unravelled kids cardigan I bought second hand. So he is a thrifty piggy. I have alot more yarn left over. The cardigan was knitted in the light pink and dark pink that you see his face was embroidered with. I call him he because as soon as I showed Megan my finished piggy she fell in love with him. She has been trying to snatch him for two days. He is very soft and squishy. She has kissed his snout and says that that now means he belongs to her. She calls him Wilbur. What she doesnt know is once I saw how much she liked him, he became her birthday present for Monday. Wont she be surprised hehe. Immediately after seeing how much Megan liked him and knowing he would have to be hers, (she kissed his snout so he has to be hehe)

I realised I had to make another one. You see Victoria fell in love with the piggy too. I am now halfway through knitting another piggy in the darker pink for Victoria. I have a feeling the piggy knitting will not end at these two hehe.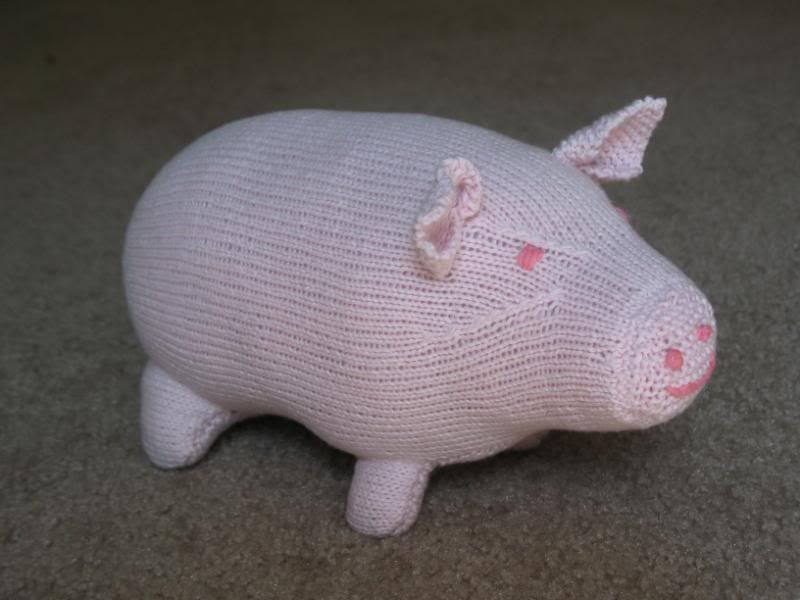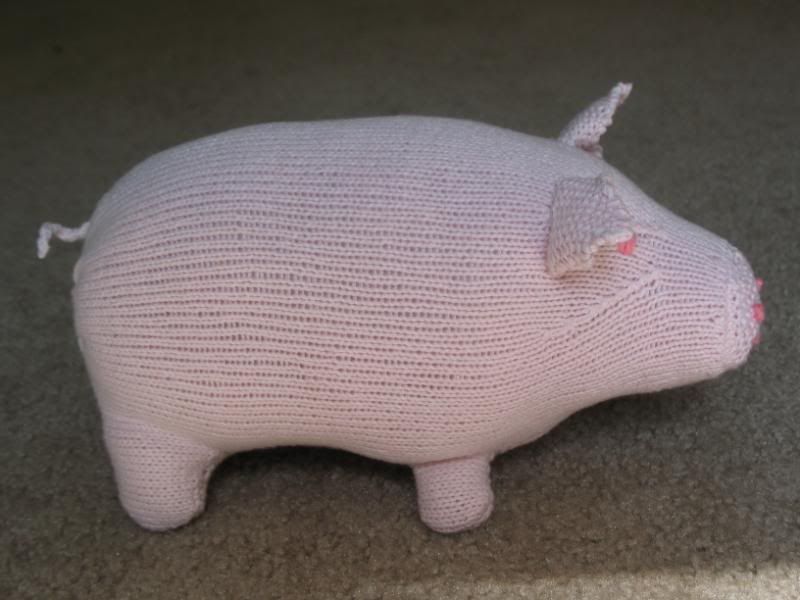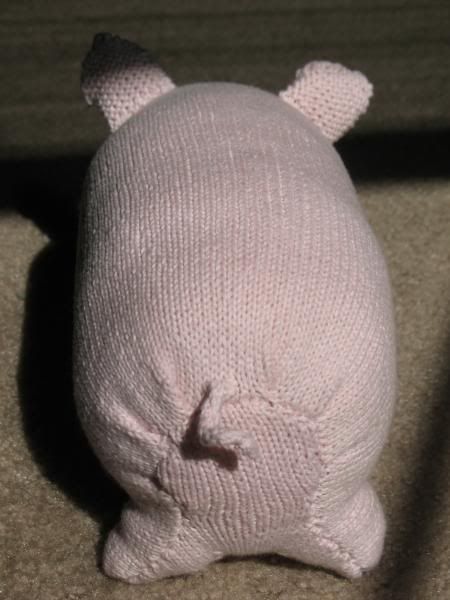 Gotta have the piggy butt shot hehe.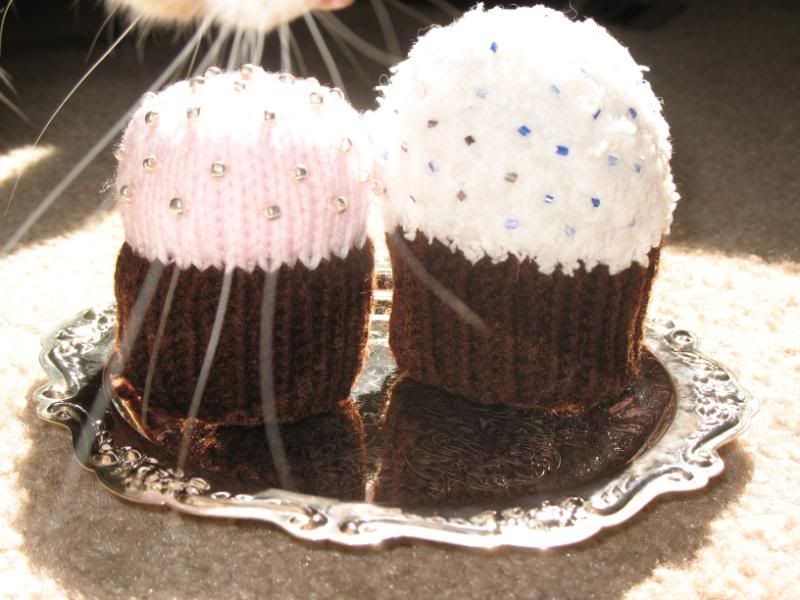 I mentioned before about knitting Megan some cupcakes for her birthday. Well yesterday I put the finishing touches on those so they are ready to be given. You may be wondering in the shot above what the white lines are in front of the cupcakes. Every time I need to take pictures of finished projects our kitty Ringo has to come over and inspect them. Well this time I decided to just shoot the photo without moving him. Here he is sniffing out the cupcakes. Yes, he has very long whiskers. I managed to find these perfect silver ball beads for the pink cupcake. They look just like those little silver balls they put on cakes. Always Megan's favourite when it came to cake decorating. If its one thing you need to know about Megan is that since she was a baby, birthdays are always about the cake. I dont think that will ever go away hehe. The only shame now is that her Grandma isnt here to bake her the elaborate cakes she use to make for her. There's no way I could top those. Whatever kind of cake Megan would want my Mum would bake and Megan really put thought into her ideas. One year she asked for a dolphin cake. Grandma went into panic mode on how to make a dolphin cake. In the end she cut dolphin shapes out of blue fondant and put them on a pink cake. Apparently that was good enough because Megan was very impressed hehe.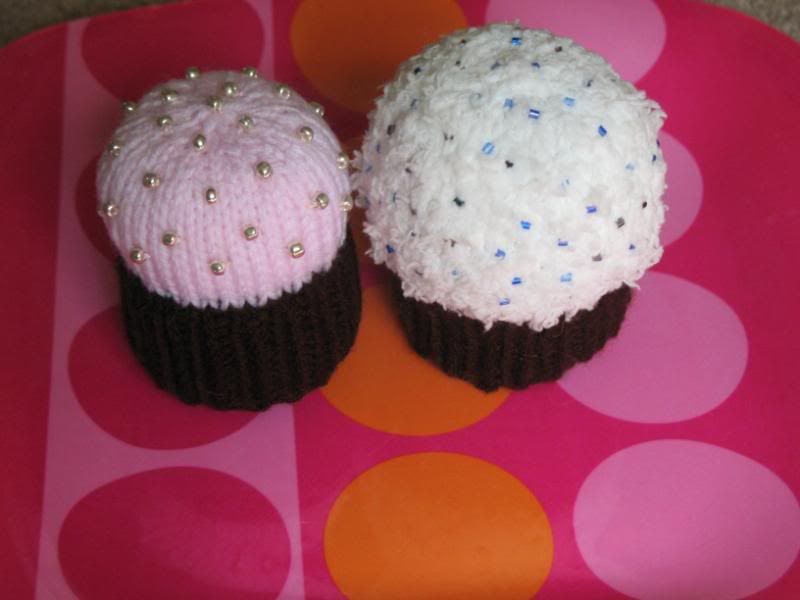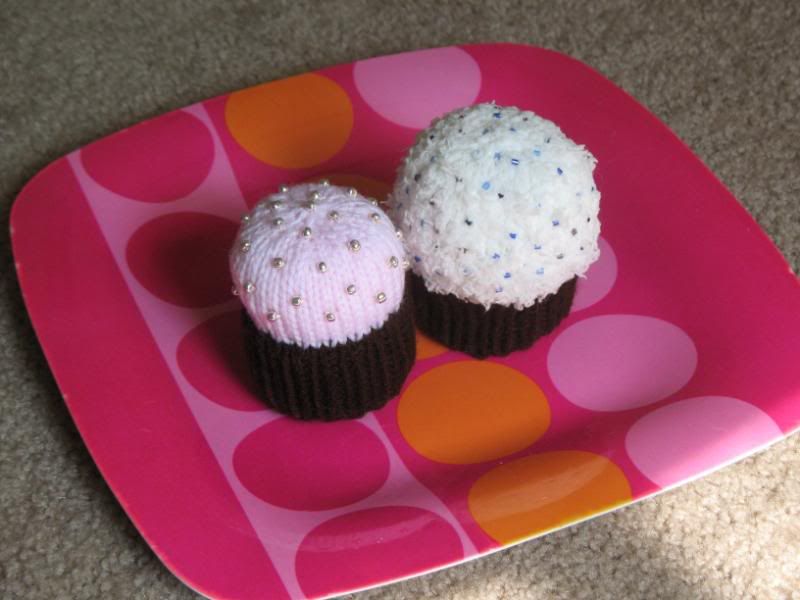 On a Knitted For Ewe update, things are coming along slowly but surely. This week a lady has designed the stamp for my tags. She has already started making it. It looks so cute. I cant wait to show it off. It turned out just how I wanted it. I found this lady on Etsy of course. Her company is J L Mould. She makes clear stamps and can design anything you need. I love the fact that she makes clear stamps. It will be so much easier to position the stamp in the right spot if I can see through it. That should be ready in about a week.
My Mummy decided that she wanted to help support my business venture so yesterday I received a $100 money order in the mail to put towards the supplies I need to start listing items. Its going to be a tremendous help and I will have to find some way to show my gratitude.