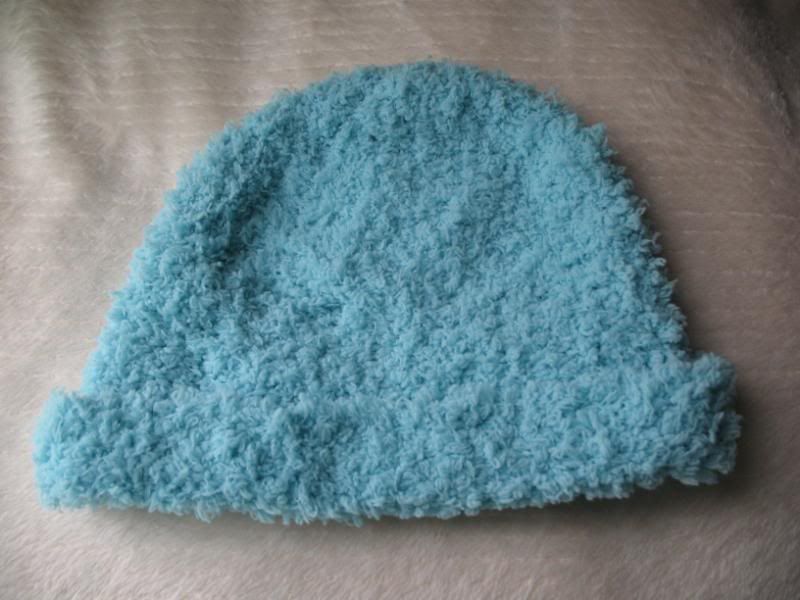 I finally have everything finished for the order I got a couple of weeks ago. It would have been finished and sent off a week ago if I didnt have to special order the blue yarn. Its all ready to go and will be posted off tomorrow. I have my fingers crossed that everything will fit fine. Im not sure if the booties are a little big or not. It was a long time ago that I made Victoria's pair when she was that age. If they arent the right size I have no problem in making a new pair to send off to the customer. I dont mind doing that because I want them to be happy with what they get. The hat and booties look almost black in this photo but they are really a dark chocolate brown.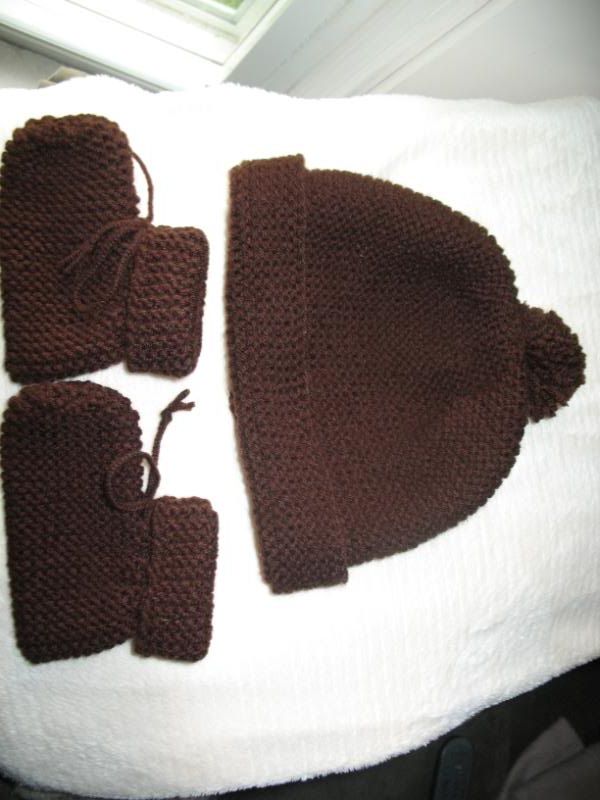 Here is that seafoam bag that I felted a couple of weeks ago. Its not that fancy yet because I have did was felt it. I havent shaved the fuzzies off or made the handles or done anything other than felt and dry it.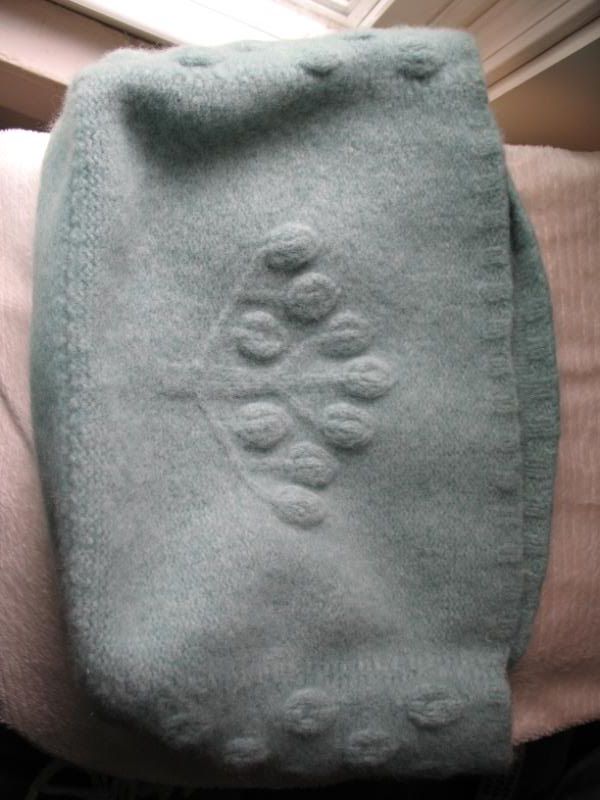 I think the tree still looks good after felting. This was me experimenting with knitting shapes into the bag before felting and it turned out pretty well I think.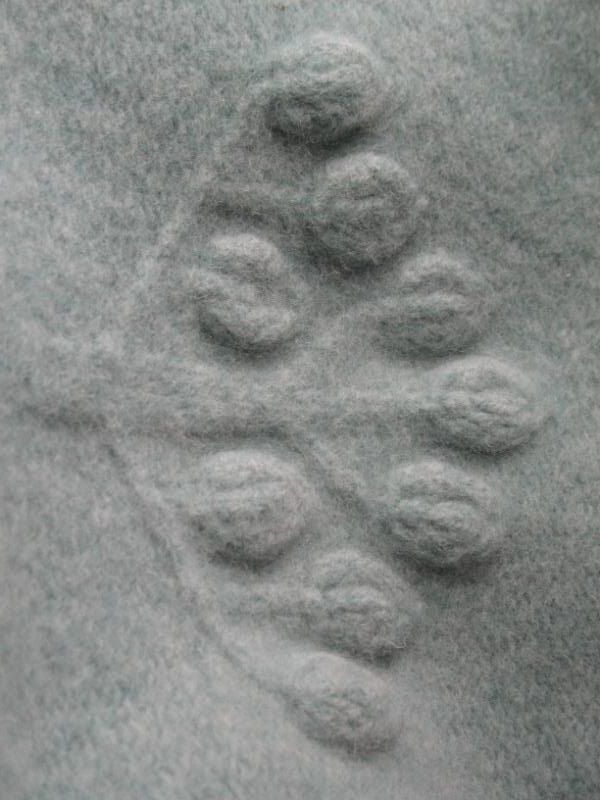 This is a shot of the side leaves so you can see those too. To embellish this bag I am thinking I could use either a clear glass button for closure or the seafoam ceramic bird button I have. I havent thought a whole lot about the handles either. I guess this bag has kind of been ignored hasnt it hehe.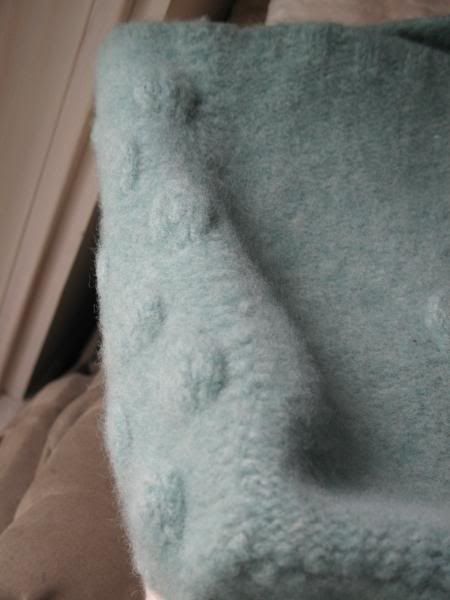 On Saturday was our towns history fair. Every year we go and have the big breakfast and then watch the parade. This year Joe was able to be up at that time and do it all with us so that was nice. I think he had fun. Megan was in the parade with her Girl Scout Troop. It was kind of rainy that day but it stayed dry enough for the parade.

Megan's Troop made pies for the pie baking contest a couple of days before hand. It was absolute chaos getting them done. I have never baked a pie before and partnered up with one of the girls to make a strawberry rhubarb pie. I was so sure our pie was going to be the most disgusting pie ever made I did put my name on it when we entered it. Well I guess I should have just been proud of what we accomplished because our pie came in 4th place, the only one of the troops pies to win a prize hehe. Who knew I had such skills? My Nanna would be proud hehe. The girl that I made the pie with and I split the prize in half. She got $3 and the envelope that said that we got 4th place and I got the ribbon.

At the fair they have all these different stalls. One stall had a lady doing face painting. She had photos of all the different looks she did. When Victoria saw the Spiderman face she just had to have it done. It was the best $3 ever spent because she was a happy girl for the rest of the day. She even happen to be wearing her Spiderman shirt that day. We went shopping after she got it done and people everywhere kept saying how cute she looked. Perhaps it was the huge grin that went with it. Because of the rainy day every time she got out of the car she would put her face down to walk to where we were going so as not to get it ruined.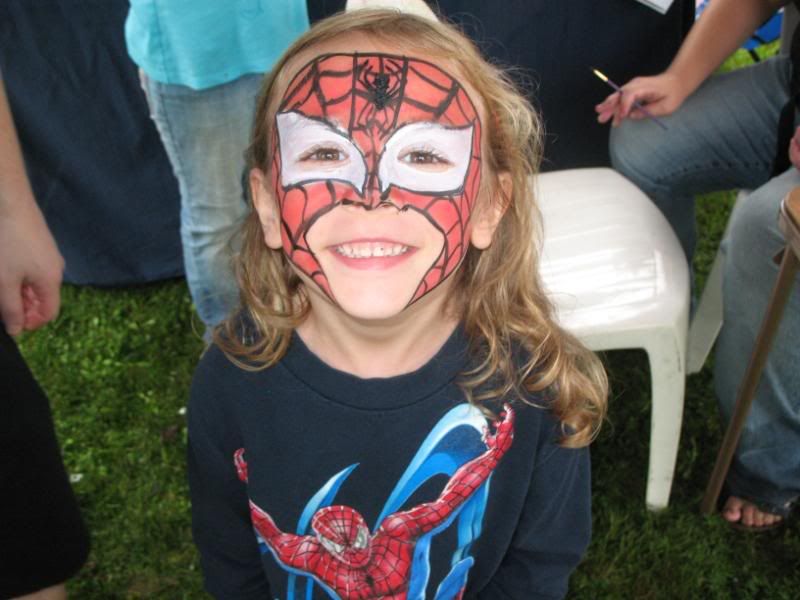 Here is a shot of Megan playing in her first Junior Varsity Girls Soccer game. She is loving playing all this soccer. Last night they finally won their first game. They seem to be getting better at playing. They had to lose 4 times before this to get their first victory but Im sure it was worth it. Its funny though, every time they lost Megan had a new and interesting reason why they lost. It was never just that they lost it was always a reason that wasnt their fault hehe. She has always been on teams that were undefeatable so this has been a new experience being on a team that hasnt won every game.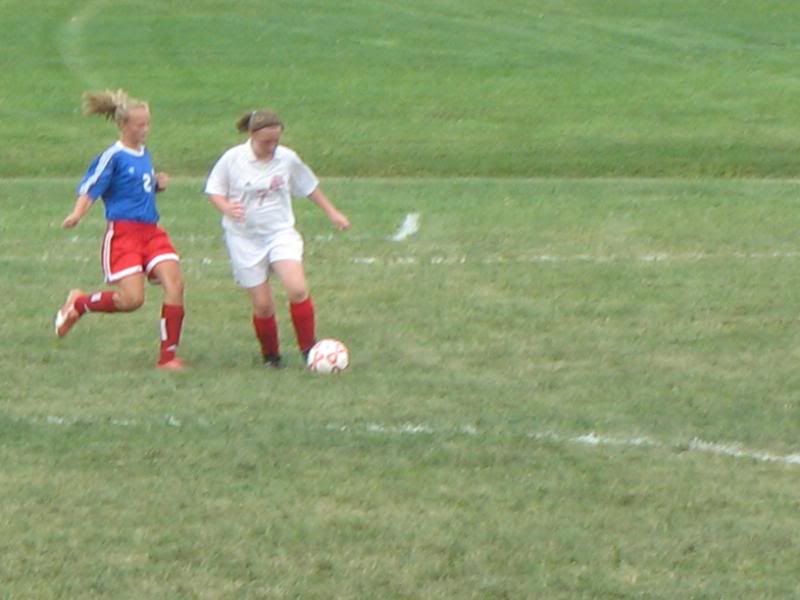 Speaking of Megan, she has got a birthday coming up in a couple of weeks. I can't believe she is going to be 14 soon. Its a scary scary thing. I think she is just going to have sleepover with some friends. She has to wait until the weekend after her birthday because another friend whose birthday is close to hers is having a party the weekend before and Friday night soccer games are in the way of doing it that night. I dont think she cares as long as she has one and the people she wants can come. I am making her a little surprise to give on her birthday. I am knitting her some cupcakes. I just finished one last night. I think it turned out pretty well. I will take a photo of it today. I am going to make a second one as well. They dont take long to make and they are great stash busters. I can see myself making many more of them.