My friend Brenda came over on Tuesday and picked up the shawl that I made for her as a Thank You present. She loved it and said she would use it alot. She really loved the colours. I managed to get a shot of her wearing it before she left.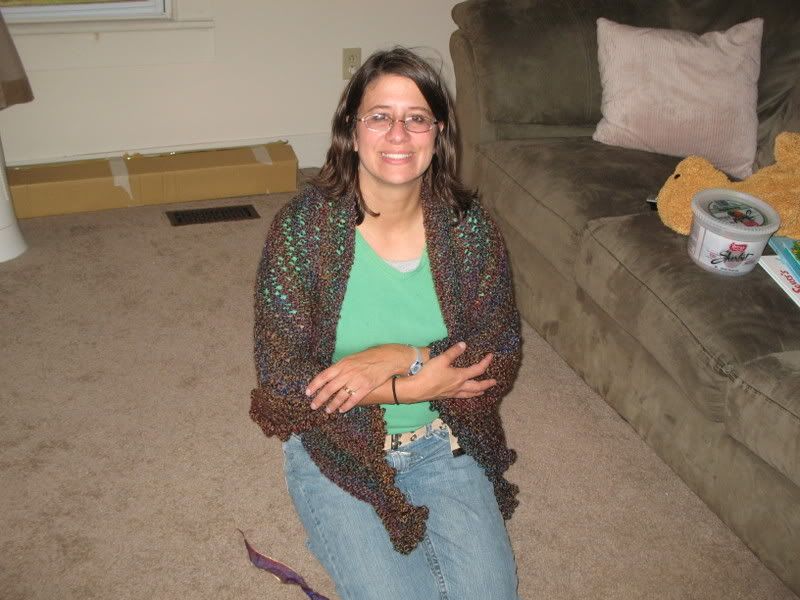 Here is a shot of the shawl spread out on the floor so you can see it fully. There are alot of colours going in and out of this yarn. Its interesting to look at. This pattern is a fun and quick knit. It was my fifth time knitting it and Im sure it wont be my last.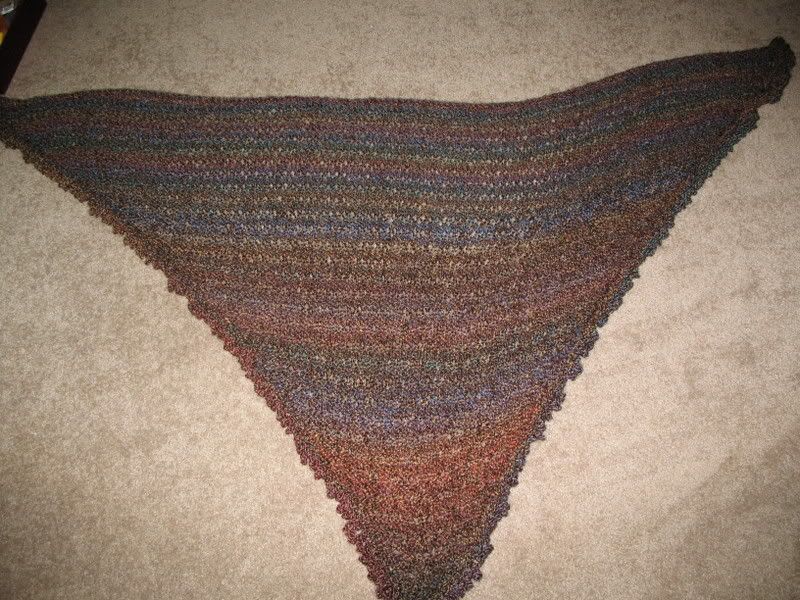 This is a close up of the crochet edge on the shawl. Its a little hard to see the detail with this colour. This shawl can be made 3 different ways. You can make it in 3 colours, 2 colours or all in one colour like this one was. It looks different every time depending on which colours you use and which yarn you use as well.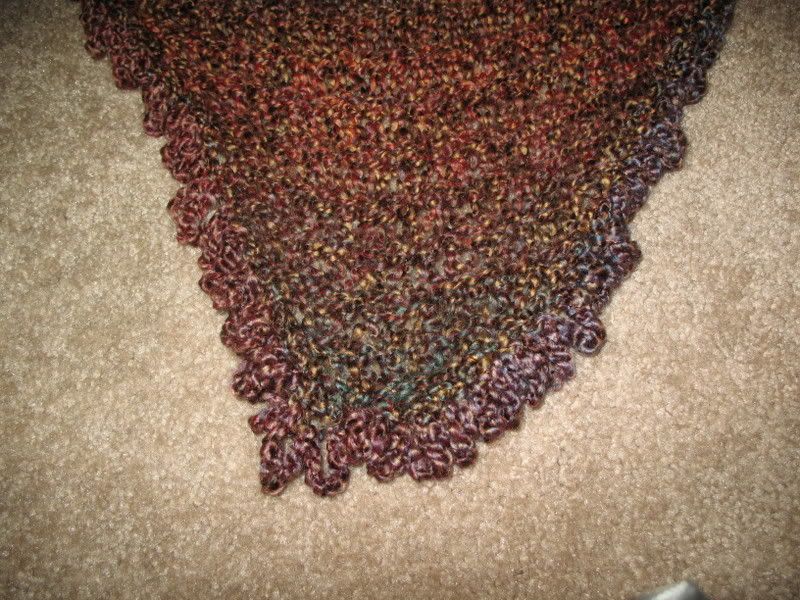 All this week I have been working on the blue, green and white cotton blanket. I am pretty close to finishing. I am up to the decreasing part and have about 3 more balls to work through for it to be done. I will be glad when its done but then I will have to weave in all those ends which is not fun. I then get to start another blanket that will be almost like it but it will be in pink, purple and white, smaller and with a little hood. It should knit up alot faster than this other one. Im just about over seeing these colours constantly hehe so a change in colour will be very nice.

Tomorrow we are off to the Chautauqua County Fair. I really hope it doesnt rain. I think we will be going regardless of rain because we already have our tickets but Miss Victoria has been excited about this fair since we left last year so it would suck if it was all rainy. I am fully prepared to see many farm animal butts in stalls and smell all the fair food smells. Its just a tiny little fair but the kiddies like it. Its big enough to have fun but not get pooped. Now the fair in August is the one where we all get tired at the end of the day. Lots of things to see there.

Last Friday we received via delivery our new 56" big screen tv. Yes its a monster hehe. It is still sitting in its box and everyone is dying to start using it. First we had to wait for the tv stand we bought for it, then today the high definition cable arrived that they forgot to send and this weekend will be the ever exciting changing around of the room to put it in the right place and unplugging the old stuff. It will be worth it when its all done though. I love the stand even though it was a huge pain to put together. Its a pretty cherry wood not like the black or glass ones you see everywhere. I think everyone is excited about this tv because lots of friends and family have told us to call them when we have a movie night so they can come and watch hehehe. Lots of fun! I will take a shot of it when its all been set up.

Thats all I can think of right now. Im sure something else will come to me as soon as I post this.