It feels like forever since I last updated my blog. I have been busy doing summer stuff with the children. I somehow managed to elect myself to be a summer reader leader at our local library for the Preschool and under aged kids. I feel like I have no idea what I am doing half the time. I have a wonderful lady who is my partner and she helps ease my mind alot. We had our first day of the program on Thursday and the kick off registration night was on Monday. We also went to what will be Victoria's school soon to help with the school garden. It has become quite the tradition to do this twice in the summer and gives Megan the chance to catch up with her old teachers. Victoria likes the digging in the dirt part and the eating of the hot dogs. There were some simply scrumptious M&M brownies this time. All this and I am having to fulfill Victoria constant need to go to the park. They have just installed this big slide set at our local park and every day she begs to go, not that we have done every single day but the constant asking is driving me crazy hehe.

With all this going on I have still been knitting of course. I got a call on Monday that a lady in the moms group just had her baby and she has requested instead of presents if we could all bring meals over so she doesnt have to cook while making this big adjustment. I decided I had to knit something to give along with the dessert I was assigned to give. I looked through the baby yarn I had and decided that I would make something out of this very soft mint green and cream I just got. She had a little girl and I figured she is probably getting tons of pink and I would be different. The pictures below are what I made. When I finished the hat I looked at it and wished that I hadnt done it in stripes. I think it would have matched the booties better if I had of done the band in cream and the rest in green. It would have also saved me having to weave in all those little end by doing stripes. Oh well its done now and being taken tomorrow. I cheated on the dessert. I found out she doesnt like chocolate and most of my dessert recipes are chocolate. Who would have thought. There is a little Amish baked goods stall just up the road so I bought one of their apple pies and some whipped cream. I have heard the Amish food is wonderful so I also bought a raspberry pie for us. It was oh so yummy.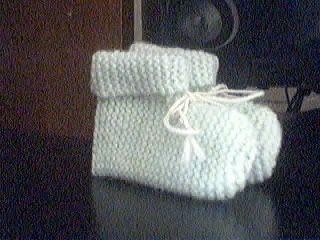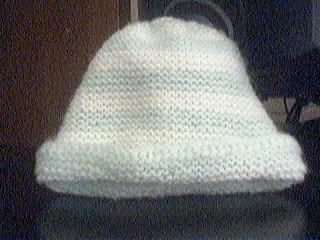 This week I also went to the first meeting of the knitting group that the library assistant just started. I dont think word has got out well enough yet but I think the group will build because I have heard lots of people were interested. Megan watched Victoria for me for a couple of hours which is always scary and I got some quiet time at the library to knit. A girl in Megan's Girl Scout troop had come to the meeting with some crochet she started and some knitting. She had started to learn a while ago and had forgotten how to do it so I was showing her how to knit. She thought it was fun. It reminded me of when I was first learning and made me realize how far I had come since those days of constantly asking my mum to fix my mistakes and could she please cast on because I couldnt figure it out hehe. I hope the group keeps up because I think it could be really fun and its only just across the road.

Over the next couple of days I will try to make another post with pictures of the yarn I got in the mail last week that I got from Etsy. I got 5 balls of Lion Brand Wool Ease Chunky in dark green. Along with my order she had slipped in 2 balls of Knitpicks Merino Wool in Moss. I am still getting used to wool not being scratchy like I remember it being in the itchy jumpers we were made to wear as kids. This wool is so soft you cant stop touching it. With the moss wool I went back and forth on either knitting socks because it was so soft or a felted bag. I made a decision and have already started a small bag that will be felted. I hope I made the right decision. I figured I can always buy more from KnitPicks.

Oh I know something else I need to photograph. My wonderful sister just sent me a ton of beads to use on my felted bags. I think she had lots of fun picking these out hehe. I will take pictures of those because they are so beautiful that you just need to see them. Perhaps I will have to use some on my Moss Bag when its done. There are some nice ones that would match that colour nicely.

Well I guess I have waffled on enough for now. Stay tuned for lots more photos this week, I'm just charging up my camera batteries. I need to buy spare ones for when this happens.