Here is the baby set thats not quite finished yet that I knitted last week. The cardigan needs the pink buttons added and the whole thing needs to be blocked to bring out the lace pattern.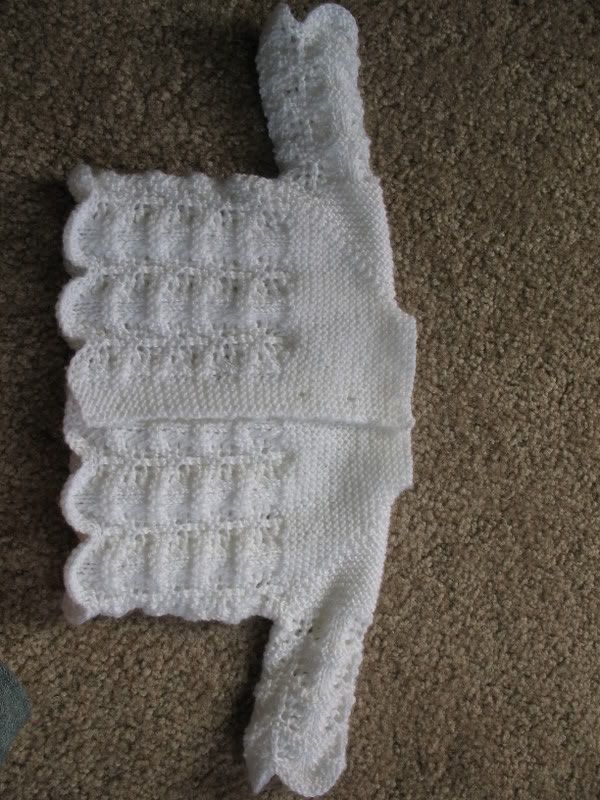 This is the back of the cardigan. This was my first attempt at knitting a baby cardigan. I think it came out pretty good.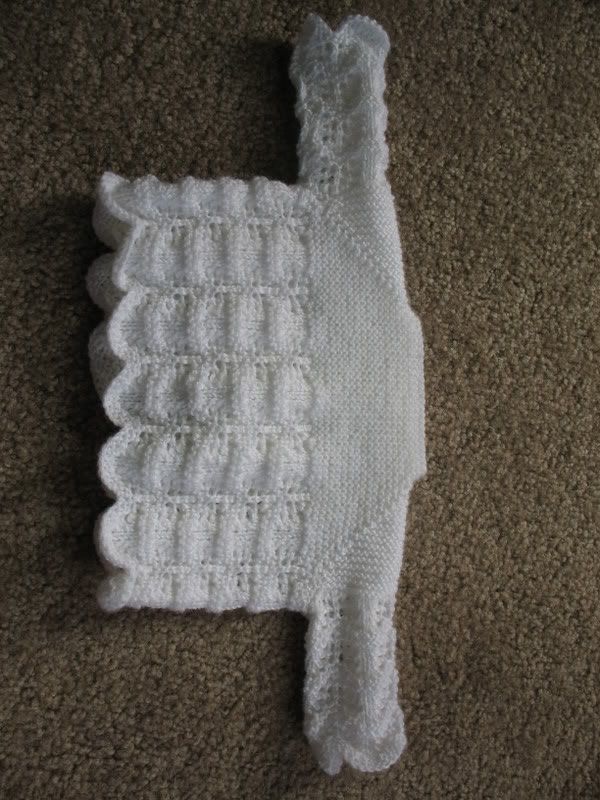 This is the bonnet that goes with the cardigan. I just need to buy some pink ribbon that match the pink buttons. The ribbon will be attached at the corners so it looks like one of those old fashioned bonnets. I love how this pattern has a natural scalloped edge just with the increases and decreases.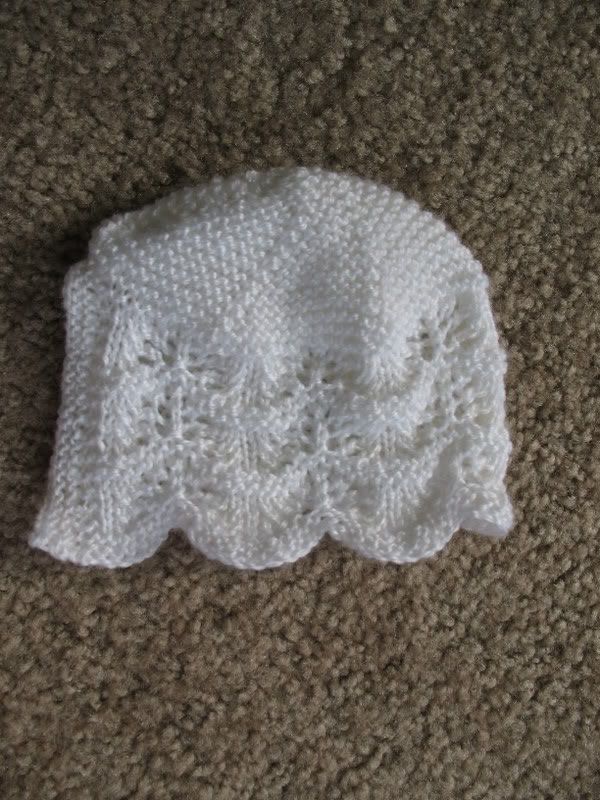 These are the booties that complete the set. They just need some pink ribbon so that you can tie a bow to keep them on. I will take a final shot so you can seen them all completely finished.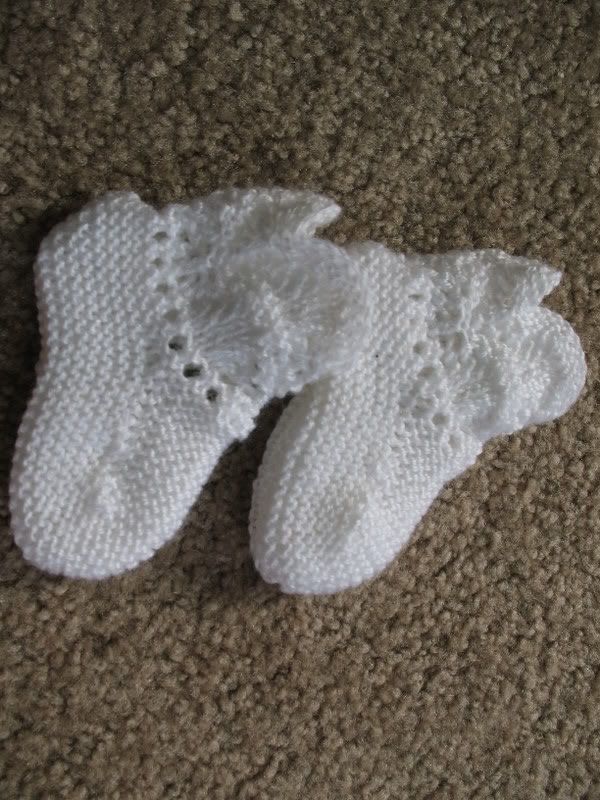 This is the cotton blanket that I am making. This is as far as I got because I need to buy some more of this yarn. I have my fingers crossed they havent sold out when we go shopping tomorrow.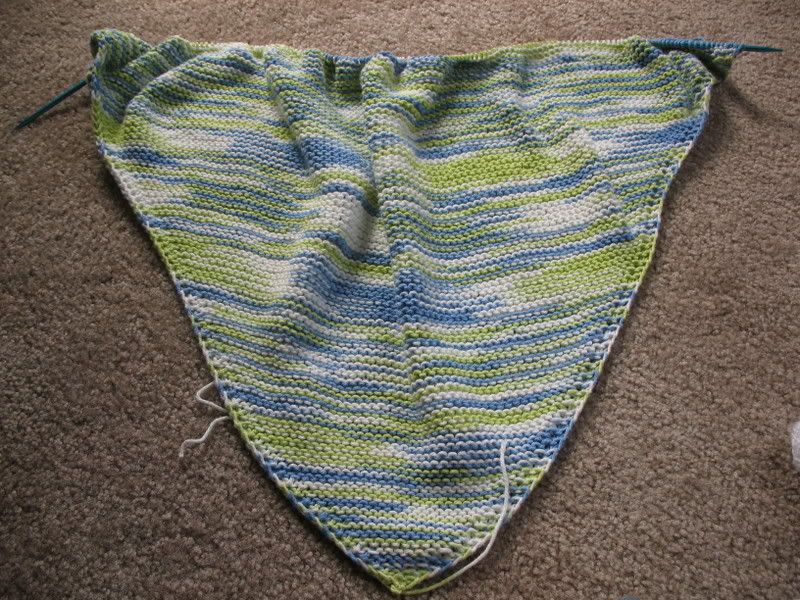 I am currently working on a purple stole for my friend Natalie. She loves purple and I have this lace weight yarn that I got from unravelling a knitted top I bought second hand. I have never used yarn this thin before. Its interesting but I love how light and delicate the pattern is turning out. I am knitting it in a Feather and Fan style or Old Shale as its also known as. I am going to make it in different shades of purple going from darkest to lightest. I hope it looks ok once its all done, whenever that will be.

Tomorrow is Saturday and we are going to do special birthday stuff for me. Im not sure what we are doing but Im excited to find out. I know one thing, we are going to the new Starbucks that just opened up. I havent had a chance to go there yet. My husband wants to go to Ruby Tuesdays because he is desperate for some of their ribs which is fine with me. Hmm I will have to think about what else we can do. I have a ton of things on my Etsy.com favourites list that I want so I said I would love to pick some stuff from my list to buy for my birthday. Yay for birthdays.

Oh some exciting stuff this week. I just got a package from my Dad for my birthday. I was very excited to find that I now have a green Ipod Shuffle. I cant wait until Megan gets home from camping and I can show her my new gadget. I havent charged it up yet but I will have to start thinking of what songs I want on it. I also got a bunch of very big laminated photos of my very cute niece Olivia, my sister, my brother in law. my dad's girlfriend and some old photos of my girls. The other exciting news that we got this week is from my oldest daughters father. Apparently Megan is going to be a big sister again. I had to call her up at camping and tell her the good news. I dont know any more than that. I havent emailed him back yet and found out the details. Looks like I have more baby stuff to knit in the next few months.