Last week was a busy week. My baby turned 4 on Thursday the 21st of June, her party was on Saturday the 23rd of June and I turned 31 on Sunday the 24th of June. June has become quite the busy month since Victoria's arrival. I am sharing some photos that I took of her this week.

Here she is on her birthday with the kitty I got her. She just loves it and its name is Sprinkles.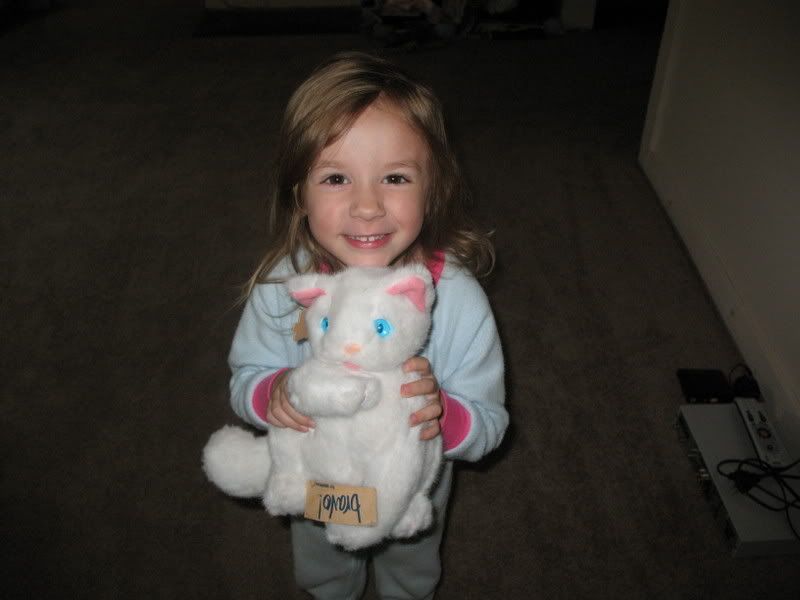 I also got her this Baby Kermit because she is just like her mummy and Kermie is her hero hehe.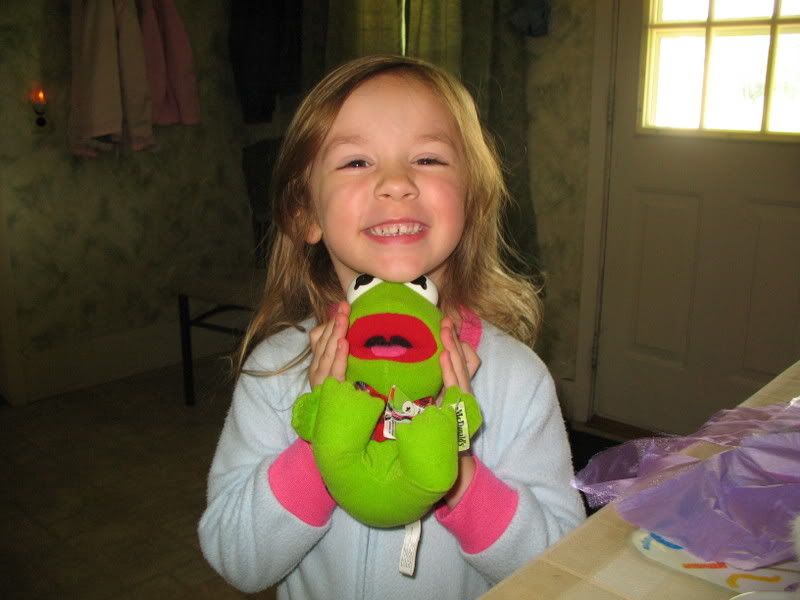 Here she is with her birthday breakfast of waffles. We werent having a cake until Saturday but you have to have special stuff on your birthday too so she got to blow out a candle on her blueberry birthday waffles hehe.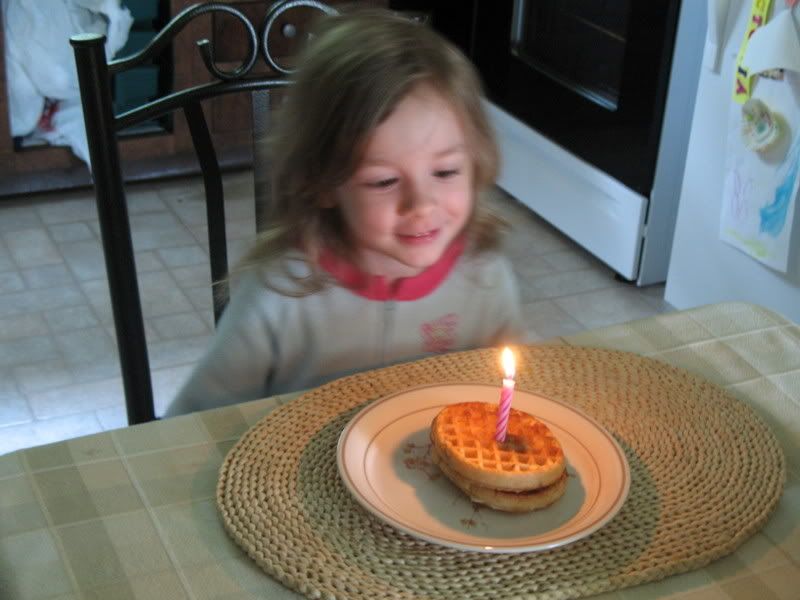 This is just one of the two rainbow cakes that Megan and I made for Victoria's party. She found this cake in an American Girl magazine and just had to have it for her birthday. I was so stressed about getting this cake perfect. We were very lucky that everything came out wonderfully and Megan was a huge help.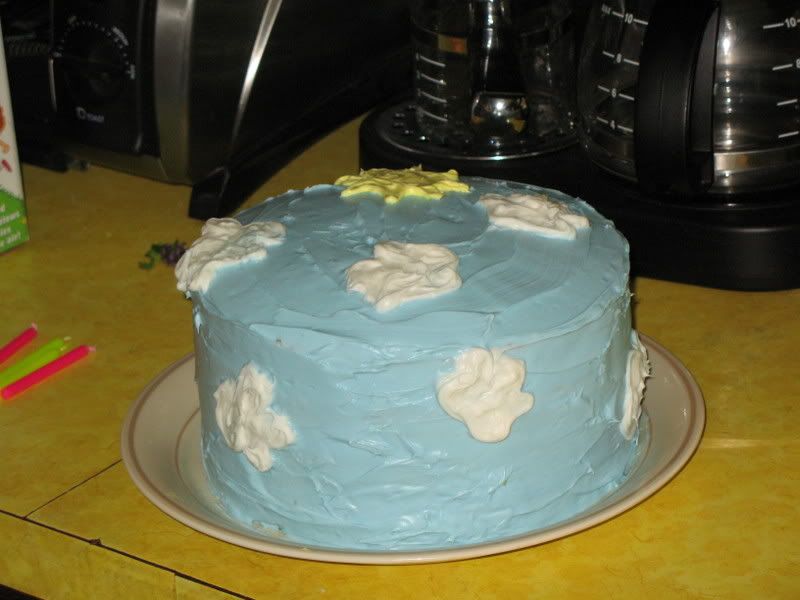 This is the inside of the rainbow cake. The colours look a little toxic in this photo, they were alot nicer in person. I tried to cut it and still make it neat and pretty but it was tricky. There are 4 layers of cake. Each layer is a different colour and a different flavour. You just had Jell-O to a cup of white cake mix to the shade of your liking and bake. We had berry blast, lime, orange and strawberry. Everyone was most impressed with the cakes.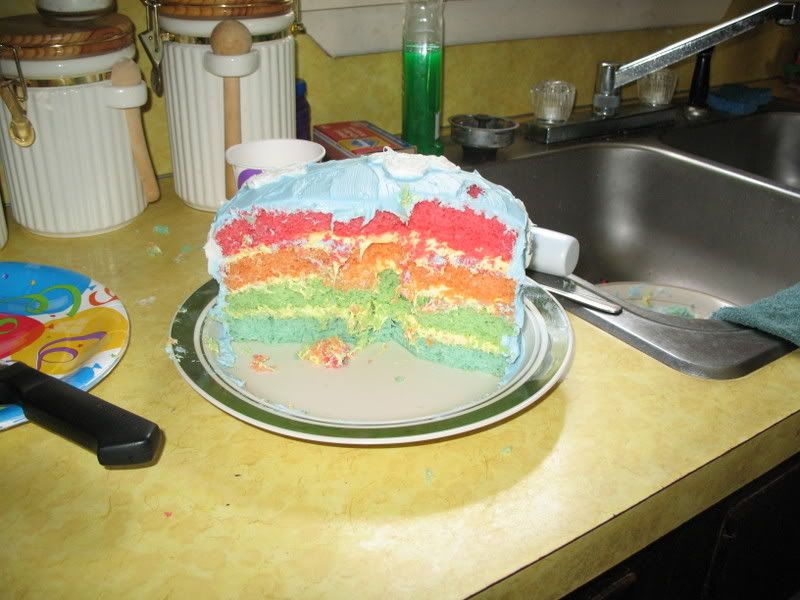 In all the running around I did get some knitting done. I will post some photos of what I knitted last week, tomorrow. I got in a baby knitted stuff mood and just found out that a family member is having a girl and just had to make something. It is almost finished. I made a little cardigan, booties and bonnet set. Its all in white and I just have to buy some ribbon for the bonnet and booties and sew the buttons on the cardigan. They are going to be pink of course hehe. It is a lacy pattern so I still want to block it so that the lace sits a little nicer.

I also got an order from a friend of mine for a cotton blanket/hooded baby towel and started that. I am making it in Peaches n' Cream 100% cotton. I havent used this yarn before but I really like it. You can beat the price at $1.30 each either. The person I am making the blanket for just found out the gift is for a baby girl and we were making it in this blue, lime green and white yarn so she went out and bought a different colour. I will have to call her tomorrow and let her know that I miscalculated how much I will need and will need 3 more balls of the new colour. As for the other colour, I couldnt help but start this project as soon as I got the yarn so now its going to be made into a bigger blanket and given to the soon to be big brother who is 2. I guess I will need to get more of that colour too. Yep lucky that yarn is so cheap hehe. This baby isnt coming until October so there is plenty of time.