Well by Wednesday this week I was recovering from my sickness. Thank goodness because I was hating not having enough energy to do anything.

I finished the two pairs of booties that I had an order for and posted them off on Friday. I finished my surprise present for Brenda, my online knitting buddy and posted that on Friday as well. She should get that by the end of the week. Once I find out she has it I will post the photo of the finished product.

I took a photo of the bear I got for mother's day last month from my daughter Megan. It says I am number 1 mum. Yay for me. I put him with the very pretty candle tealight holder that my mum sent me a couple of years ago. I just love how when its lit up like this, you can see the roses imprinted in it. Very nice. I should use it more often. I have been using it the last couple of weeks because my friend Natalie gave me some beautiful smelling tealights recently. I just love smelly candles.

Today I took a photo of some wild flowers that I picked the other day from the back of our backyard. Im not sure what they are but they smell alot like lilacs and have made our house smell like spring time. I am waiting for our garden to sprout the flowers that we planted at the beginning of May. These flowers will have to do until our special ones decide to arrive.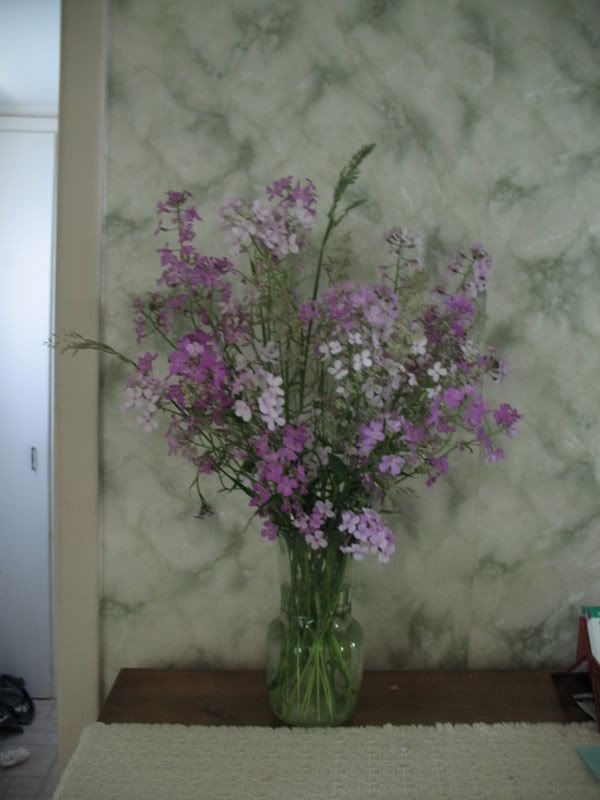 Here are the two pairs of booties that I just mailed off yesterday. They were made with Bernat Softee Baby and Bernat Eyelash. Two very soft yarns. I really hope they like their order. I would love to make a baby blanket out of that Softee Baby yarn, its very soft and has lots of yardage.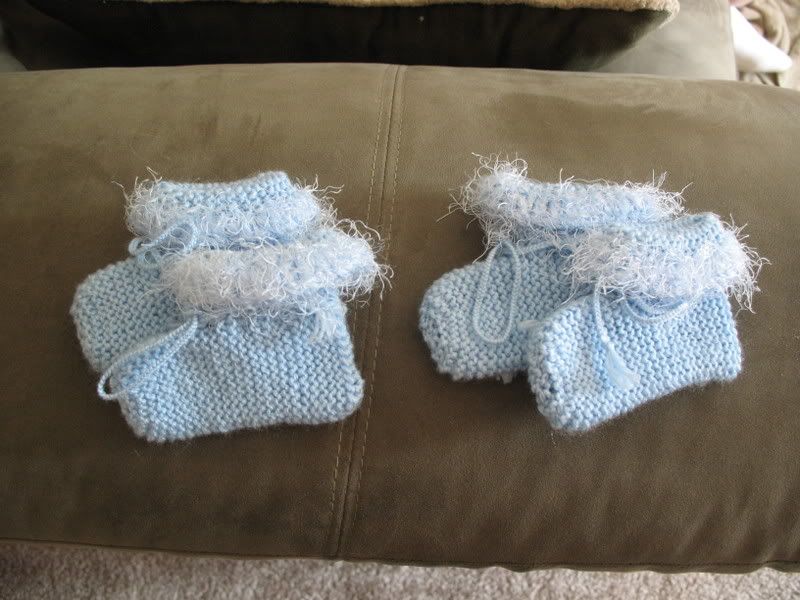 Yesterday I went to Erie, Pennsylvania with my friend Natalie to the big A.C. Moore craft shop. I had never gone in there before. We went to get some stuff for the Girl Scout Troops tshirts and their bridging ceremony. Natalie is Megan's troop leader and I kind of assist her. We were in there for about 2 hours. I had $20 in my wallet and didnt even come out with anything. I was completely shocked. So was my husband hehe. I think I was so busy looking and taking everything in that I was actually thinking about what to buy. We were going to go to Michaels which is suppose to be even bigger but we ran out of time. I will definitely have to go down there again and will definitely buy something this time. It was really cool seeing alot of yarns that I had only ever seen online. It so much better to see them in person and be able to feel their textures. I am very big on softness hehe. People that know me will be shouting out "Oh My God Yes! " when they read that sentence hehe.

Hopefully this week will be more successful in getting projects done and started because I wont be sick. Yay to being healthy!