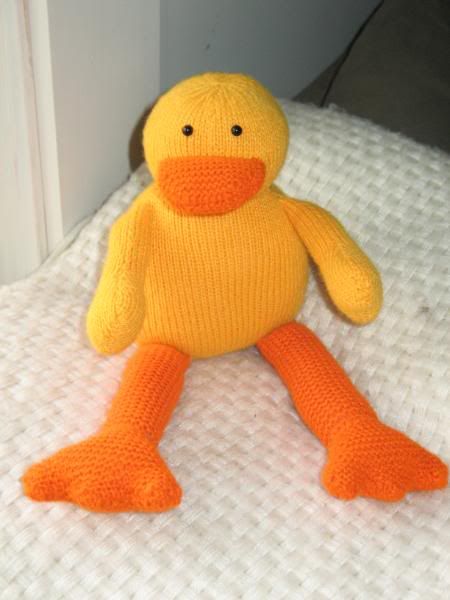 Last Thursday I finished off two projects in one day. I felt very accomplished. The duck is all done and ready to be loved probably by someone who has a love of duckies. I thought that the seaming was going to be really hard on this one but just by taking my time and making sure I did it right it came together and ended up looking just how it was suppose to. Not to bad for something that was made out of the stash of knitting stuff I already had. This toy was different because he has those little pellets inside him in certain parts to make it more weighted. He has them at the end of his arms and in his butt. I hadnt used them before. I bought them for a project that is waiting to be seamed up. I liked how the pellets worked so well I was tempted to fill it all up with pellets. Maybe one day I will try that with one of the toys and see how that turns out. Very squishy Im sure. Victoria had fun just putting her hand in the bag and feeling all the pellets.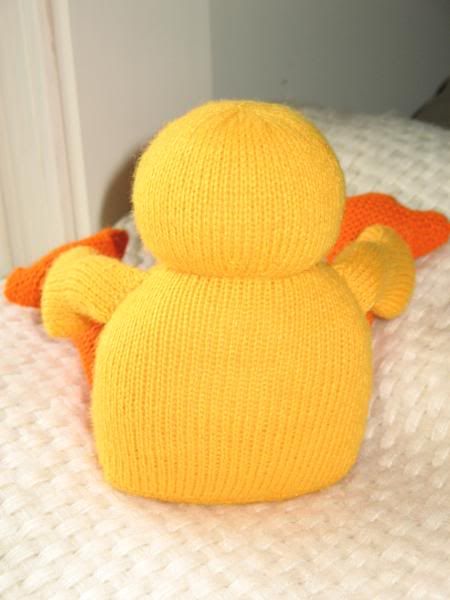 Here's the little duckie butt shot. He's not very modest this one.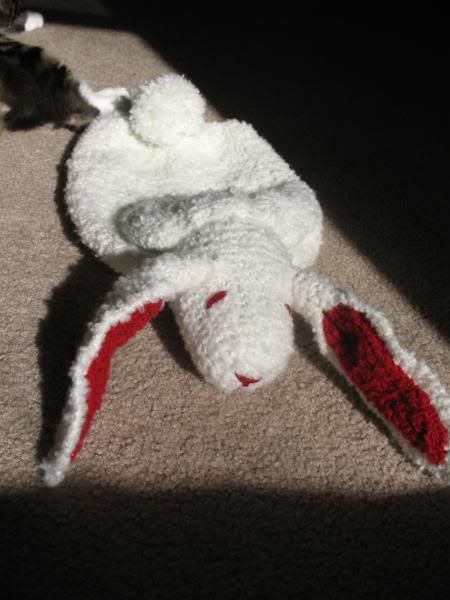 I finally finished off the bunny pyjama bag which is the last of the order from my friend Natalie. I am so pleased she has liked what I have made for her. I really like how the red looks on this bunny. I dont like how these photos turned out for some reason. I wish I had of retaken them. Yet again Mr Ringo Kitty couldnt resist getting in the way making it difficult to take a shot without him. He is such a camera hog. I think Victoria has her eye on this Bunny Bag because her favourite colour is red but she already has one and this is not for her. These girls would hijack every stuff animal I make if they could.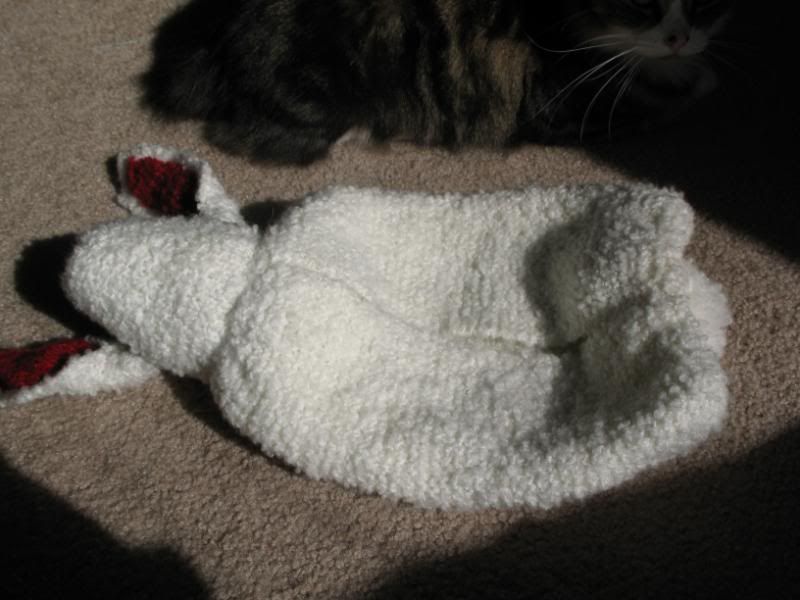 Here's where the pyjamas go, right inside his belly.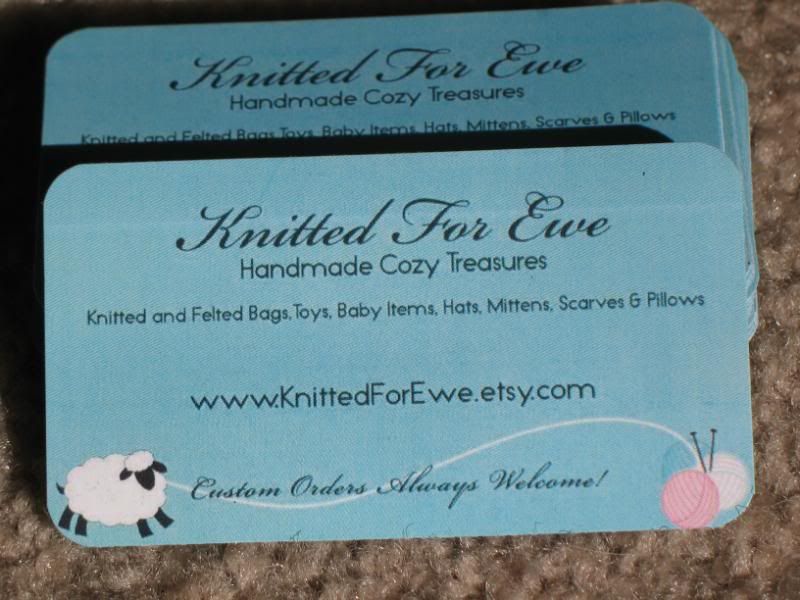 On Friday I got my business cards. Arent they just so cute. I love how they turned out. I have already given two away. Now its like a real business.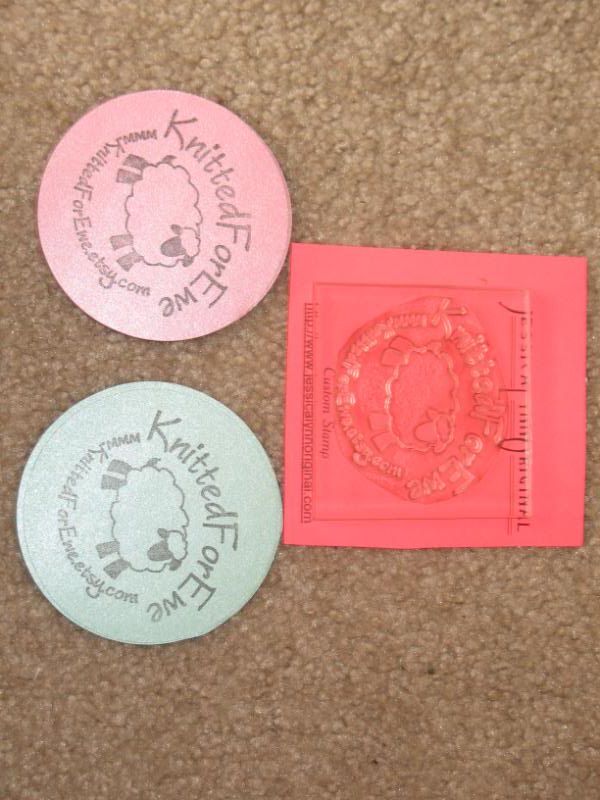 Yesterday I got the custom stamp I ordered in the mail. I was so excited to get it I had to come straight home and try it out. I got out my fancy circle cutter and the pearly pretty cardstock I had bought and got to work. I just love how the stamp came out. It is just how I wanted it to look.

I have two more things to come in the mail probably by the end of this week and I am all set. Its getting all too exciting because my vision is coming to light.

I am counting down the days until Friday this week because I am off to the yarn/cafe shop with my friend Beth from the library. She is excited to be going as well. I cant wait to feel all the yarn and taste all the goodies. I can already see myself having a hard time deciding what to bring home. I think I will have to sit down and figure what will be useful and what kind of yarn I would like for certain projects before we go so I have some sort of game plan. That may all get thrown out the window once Im there though hehehe.

I am working on two projects this week. A cable bag that I have been wanting to start for a long time. Its one of those things where I have everything I need to make it and just havent started. Its actually knitting up really quickly because the yarn is chunky. I could see myself making another one in a different colour.
The other project I am working on is a pair of socks for Victoria. She had two pairs of socks that I made her and she loves them so much that she has wore one of them out. All the time she asks me to make her some more so I started on some yesterday. I think she will like them because I am making them in Spiderman colours, red and blue, to go with her new pyjamas.

Now that its getting close to listing things on Etsy I think I better get out all my finished projects and projects waiting to be finished. Im not even sure what items I have ready to list so I will have to get that done soon.