Im sorry for taking so long to post. I have been trying to get a few projects finished that needed to be done in a hurry and with Easter as well I just didnt sit down and load photos up and stuff.

We had a fun Easter. The food was good and fun times were had colouring eggs going to egg hunts. I finally found some hot cross buns so Easter could arrive once I had those. We even got some yummy Easter Eggs in the mail from my sister and mum. They didnt last long. Well Megan and I didnt make them last long. Joe and Victoria still have theirs to eat.

Here is a photo of my girls being Easter silly. Megan is wearing Victoria's bunny ears and Victoria is all cool in her purple sunglasses.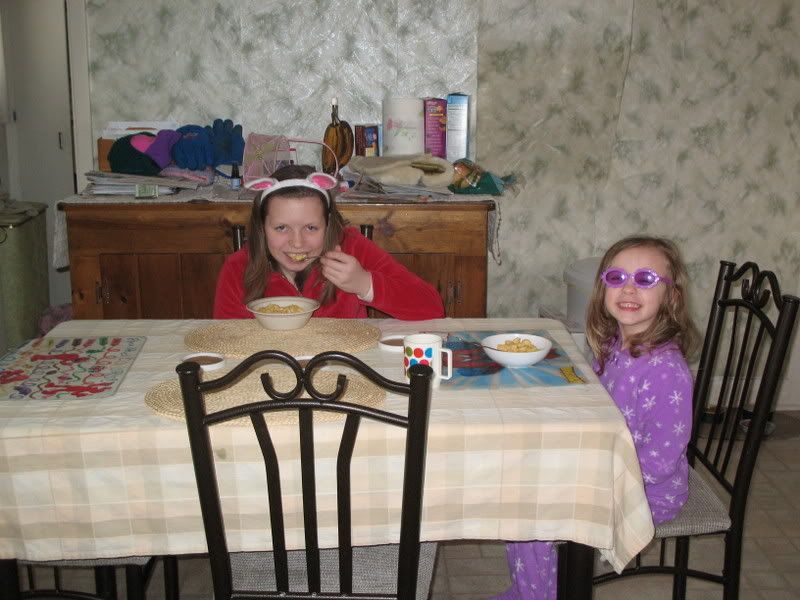 These are the flip flops that I finished for the order I got on louellasgoodies.com. I havent heard anything about them not fitting or them being unhappy with them so hopefully no news is good news. I think they turned out pretty well. The reds really seemed to match well even though I didnt have the yarn to compare when I bought the flops.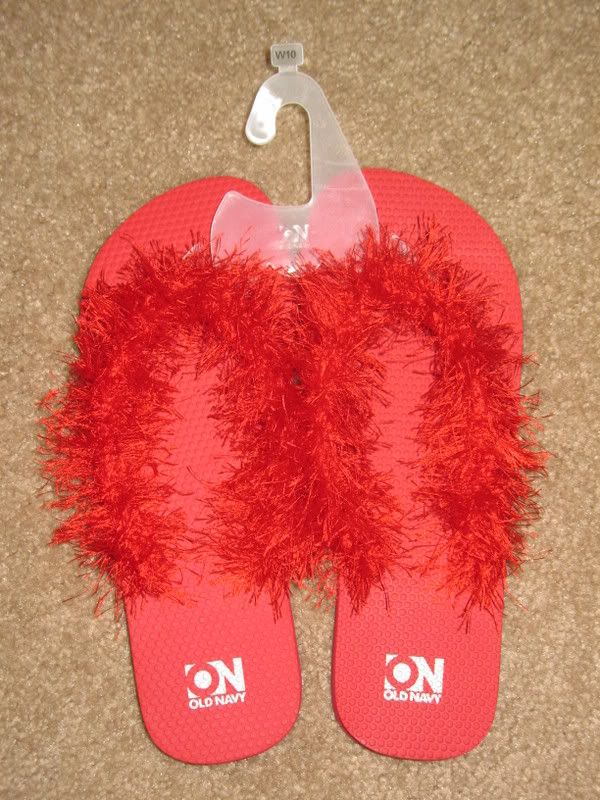 My friends mum who I was making the prayer shawl for passed away on Easter Sunday morning. The prayer shawl wasnt quite finished yet so I sat down and finished it as fast as I could. It is now all ready to give her. I found a Prayer of Comfort to put with it on the prayer shawl ministry website which was very helpful. Anyone interested in making a prayer shawl should check it out before you start knitting. I wish I had of found it before I started but it helped even finding it at the end. The website is www.shawlministry.com. So here are some shots of the prayer shawl that I made. I ended up using a lace pattern that I found in a book of stitch patterns I have and just knitting a long rectangle for a stole rather than the triangle shape. This yarn is so soft and light. The stitch is very stretchy and open which is what I wanted. Many times I debated on whether I should have used a bigger needle to make the holes bigger but I think the way that it is done makes the different colours in the yarn more visible. I am hoping to be able to give her the shawl tonight hopefully she will like it.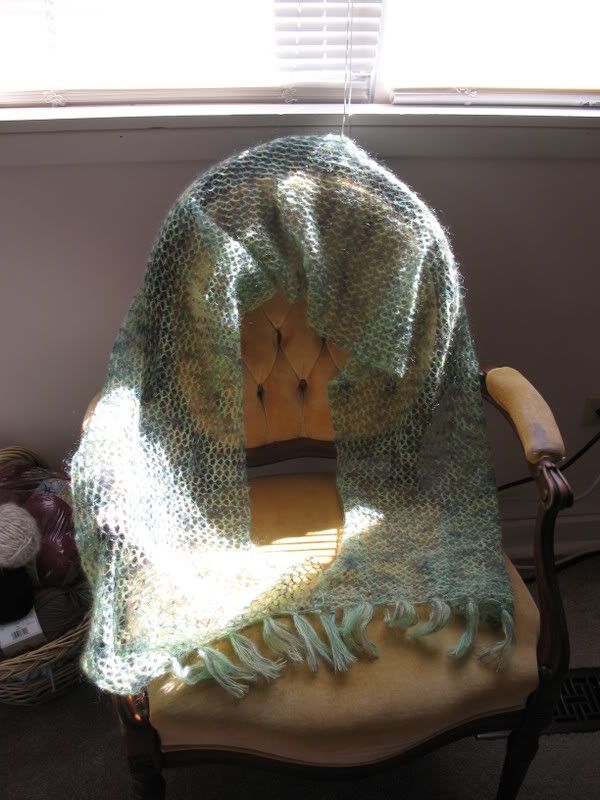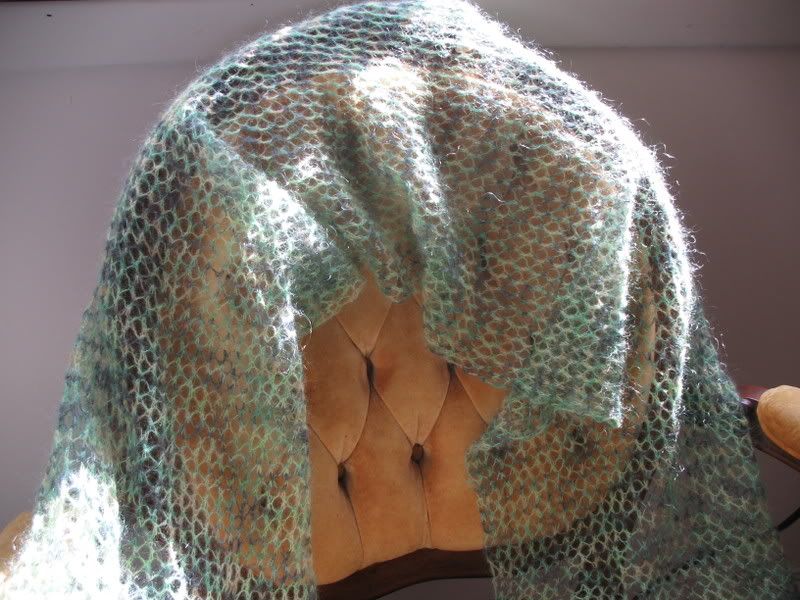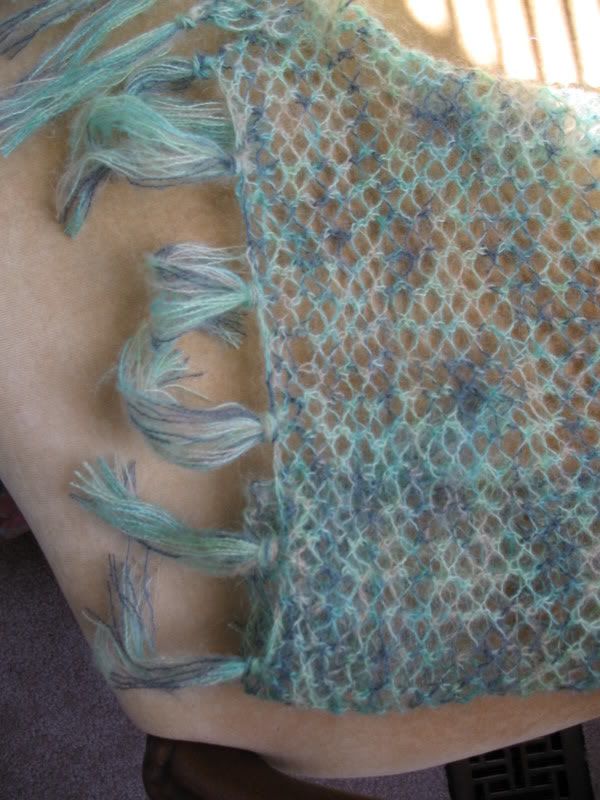 This is the latest edition to our family. Her name is Hershey and she is the fattest, snuggliest guinea pig you will ever meet. I guess its kind of hard to see her face because of her dark chocolate fur. I didnt use a flash because I didnt know if she would like that or not. I will have to take another shot when she is in a different position so I dont hurt her eyes and you can see her better. We picked her up on Friday from my friends house and have been playing with her ever since. Joe says that I am spoiling her hehe. We just sit and snuggle together all over the place. I usually wrap her up in a towel so she can feel secure. We have put her on the floor many times and she doesnt even run which is probably why she is so chunky hehe. We will have to try and get her to exercise more. I had her sitting on the table and the whole time she just sat there kind of changing position every now and then getting lots of pats. Everyone just loves her. Victoria has been making up songs about how much she loves Hershey and Hershey loves her. She loves to feed her lettuce. Ringo was very curious at first but now he doesnt really care and has stopped staring at her cage. He just went back to his regular eating, sleeping, licking routine. Yep looking at that photo I need a better shot to show her extreme cuteness hehe.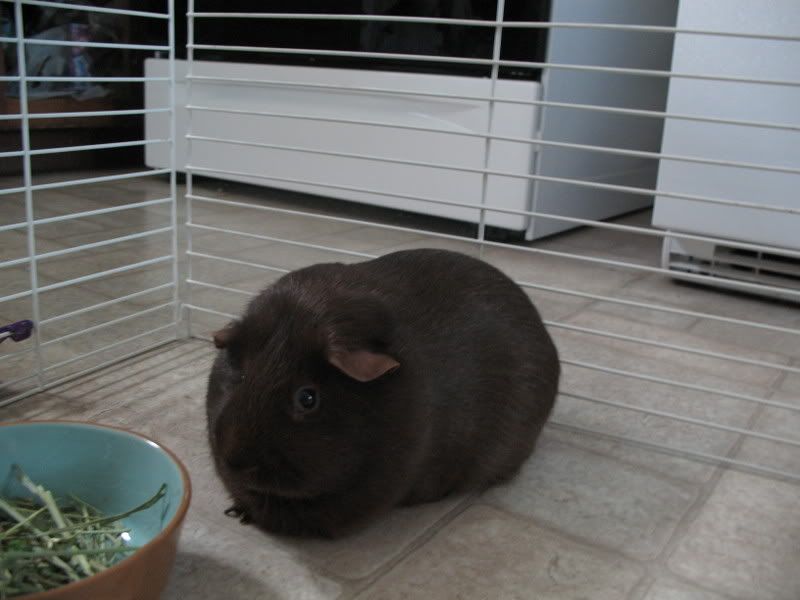 On Saturday afternoon I started knitting this bunny pattern which I had found about a year ago and finally had the yarn to make it. This pattern is a very fast knit and he was finished on Sunday morning. I wasnt even knitting the whole time, just coming back to it every now and then. I think maybe because the body and the head are one piece, the other pieces arent that big and the yarn is kind of chunky contributed to the quickness. I used Joann Sensations Angel Hair yarn in beige. I just love that yarn. Its so soft and wonderful to work with. I am planning on making a blanket with it for Joe's cousins wedding present. So Mr Bun Bun as I have dubbed him is all knitted up and he is quite the character. The reason Im not posting a picture yet is because I think he needs something around his neck like a bow tie or tie and right now he just has eyes and Im debating on whether to give him a nose and mouth. Once those things are figured out then he can have his photo shoot.

Well I guess I have filled you in on all the goings on around here. Be sure to tune in for Mr Bun Bun's debut.