Megan recently went through her clothes to get rid of some that dont fit her. I went through her pile of stuff and found some jumpers that I decided to keep and unravel for some free yarn. Ever since she got this jumper I have been eyeing it up to unravel. Yay for not fitting anymore.

So this is what the jumper looked like before.

This is what it looks like now. It only took me a day to unravel it because it is pretty smooth yarn. I think because they are the colours of her room I am going to reuse this yarn and make a cable pillow to hopefully put in this chair that we found at Samaritan House up the road. Fingers crossed that no one had bought it yet because we havent put our deposit on it yet. It is an orange velvet wing back old fashion sink into chair with wooden legs. It would look so cool in her room but it needs a pillow to go with it. If Megan gets this chair then Victoria can have Megan's old chair which she has been eyeing up for years. It is a fluffy pink velvet chair.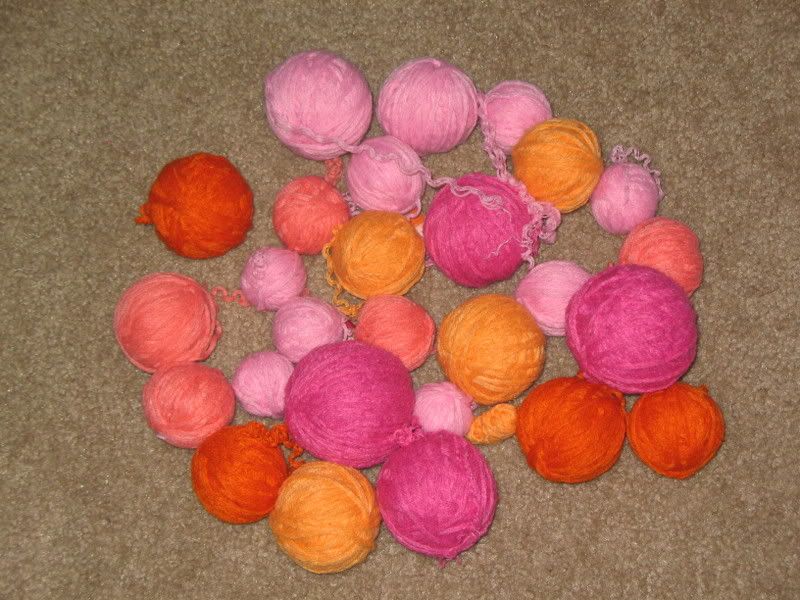 I must be in an unraveling mood because I spent yesterday unraveling a 100% lambswool jumper that I found at Samaritan House when we found the chair. I also got two other woolen jumpers but I think they have been felted alot already and are multiple colours so they will have to be felted some more and I will just cut them up and use them. I debated back and forth on whether to do the same thing for this other one but decided to take the plunge and just unravel it. I just love the colour of this yarn. Its like a bright grass green with little flecks of light blue and cream in it sparingly. Its very thin yarn but I think it will make up a great bag once I get it unraveled. It is taking longer than the other one because its wool and its thin. The yarn tends to break easily and you have to kind of take your time. It will be worth it in the end I think. I will take a shot of it when its all unraveled. There wont be a before shot because I was too excited to start unraveling to stop and take a picture.

I bought a sheet of felt on the weekend to finish of my headless bear. For some reason there must have been a rush on sheets of felt this week. It was very odd. There were all these spots where colours use to be and no felt. I found three different colours and no brown. So I picked black and just hoped that it will look good as well. The pattern did call for black anyway so it cant be too bad. I will have to sit down and finish his ear, do his face and finish off putting him together this week. I want to take him to the yarn shop this weekend.

Before all this unraveling started I was working on my knitting bag that I mentioned in a previous post. The main part of the bag is all made up and I am very close to have the handles done. Then its on to the scary process of felting. Its exciting but scary at the same time because you just never know what exactly is going to happen even if you do sample tests. I have high hopes that all will go well.

So with all that going on Im sure there will have to be some shots of finished projects during this week. I'll keep you posted.