On Saturday night I finished my mother in laws crochet blanket. I didnt realize I was so close to finishing it. I put it on our bed to measure how much further I had to go to finish it and realized that it was at the perfect size. All I had to do then was weave in all those ends. That wasnt fun but I was watching a movie while doing it so it didnt drag on as much as I thought it would. So something that I thought I still had alot of work on is now finished and being used. I like using this blanket on our bed as well. I have actually slept much better the last couple of nights with it being on our bed. I think its because it has some weight to it and it just stays in place all night and keeps you nice and cozy.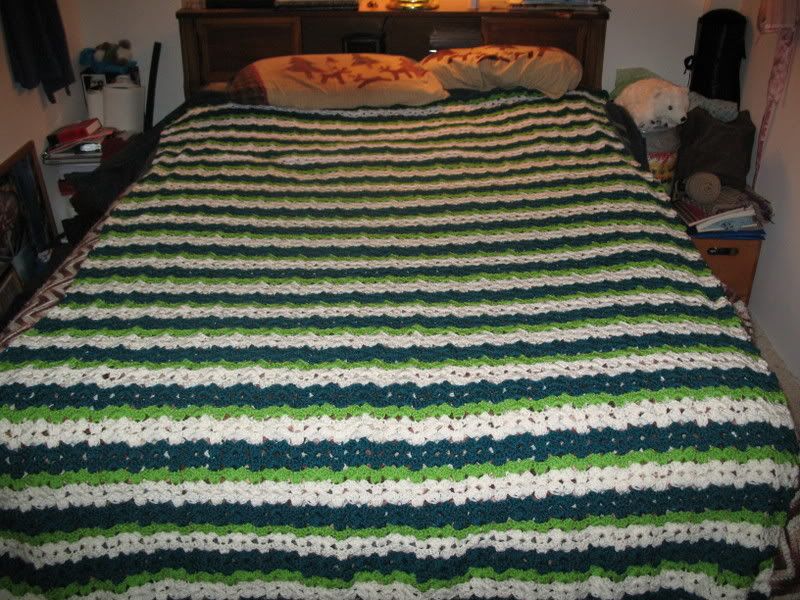 I must be in a finishing off old projects mood because after I finished this blanket I pulled out the teal knitting bag that I started quite a while ago. I have one and a half sides and the handle left to go before felting it. I really hope this turns out the way that I want it too. I think I will have some wool left over to use on a small project or two so that would be nice. I am thinking about putting a zipper on this bag because its suppose to be for toting a knitting project around. I have never put in a zipper in my life but how hard can it be hehehe. I am also trying to figure out how I want to do the inside. I had a look on Etsy and found some great material to use for lining this bag. I am trying to figure out how I want to go about making the sides and ends more solid. Any ideas of what I can use? I cant use cardboard because if it got wet it would be ruined. Perhaps I will have to go to the craft shop and look around. Perhaps a kind of thick foam put in before lining would work. I hope to think of something good because I might like to use this idea for future bags.

I found a great pattern for a bag I would love to make today. I would love to make it. I think I would do the handles in a different stitch because I dont think garter stitch would stretch too much. Here is the pattern, http://www.garnstudio.com/lang/en/visoppskrift.php?d_nr=98&d_id=54&lang=en
Isnt it cool? I love the colour they used as well.