Here is the bag that Im working on at the moment. This is it pre felting. I just felted it in the washing machine last night, its stuffed and drying at the moment. I am trying to think of what I want to do to decorate it. The pink turned out so pretty all felted. I am thinking about embroidering some tulips and buying some pink swarovski crystal butterflies to fly around the tulips. Its just an idea thats floating around.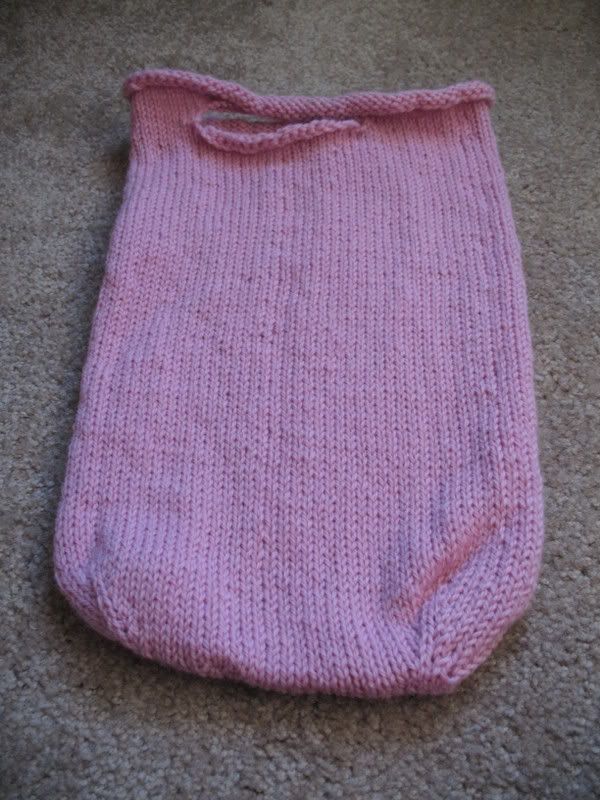 Here is the moss green felted bag that I just sewed the ribbon to the other day. Its finally all finished. I clipped my Ipod Shuffle to the top to show its size. You can also see the little pouch that goes with this bag. I put two snaps in the top so if you put little things in the pouch they wont fall out. I think I like how this turned out. The bag fits alot more that you would think in it even though its little. I think that is because the wool kind of stretches as you add things which gives you more room. The dimensions of the bag are 7 inches high and 8 inches across. The little pouch is 3.5 inches high and 4 inches across.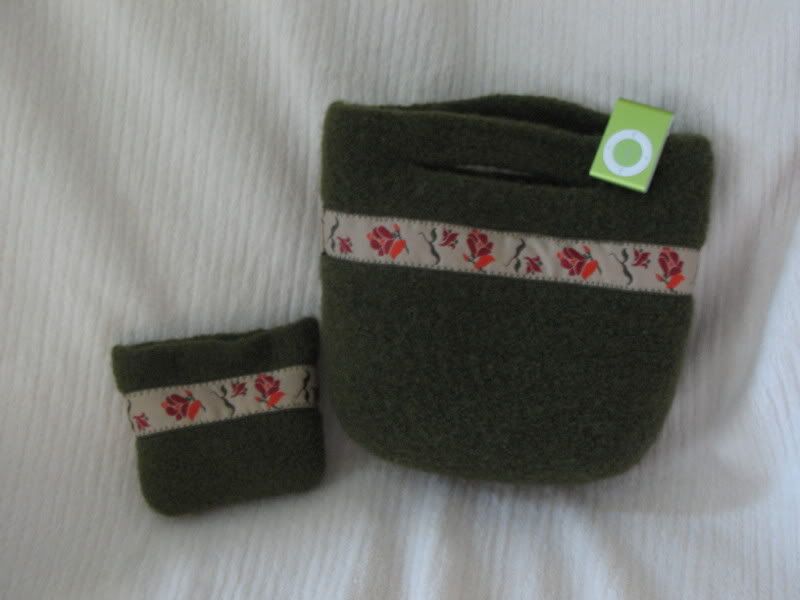 Here is the lovely Megan showing off her new Cashmerino knitted hat made by her mummy for her birthday. She says she likes it much better now that its fixed. I think that I wish I could have been able to add even a few more rows but as long as she likes it then I guess its ok.
These are the stitch markers I have been working on. The blue ones are for up to size 8 needles and I think they turned out pretty good. I have been putting my stitch markers on these coilless pins which can also be used as small stitch holders. The green stitch markers are a work in progress. I need to buy some big jumprings that would fit on size 11 needles and adjust the loops on these to fit the jumprings. They are currently sized for size 5 needles and I feel they are too heavy for such skinny needles. I now need to buy more beads and such to make more creations or just play around with the beads that I have.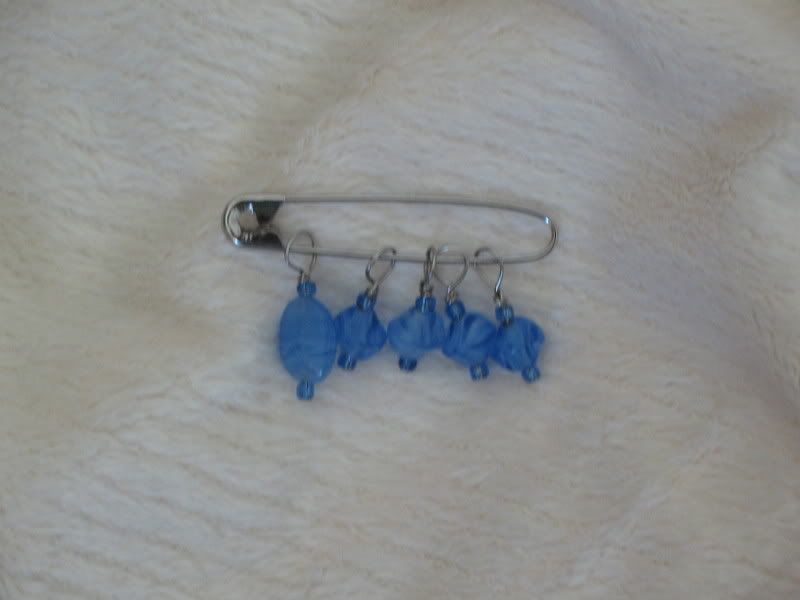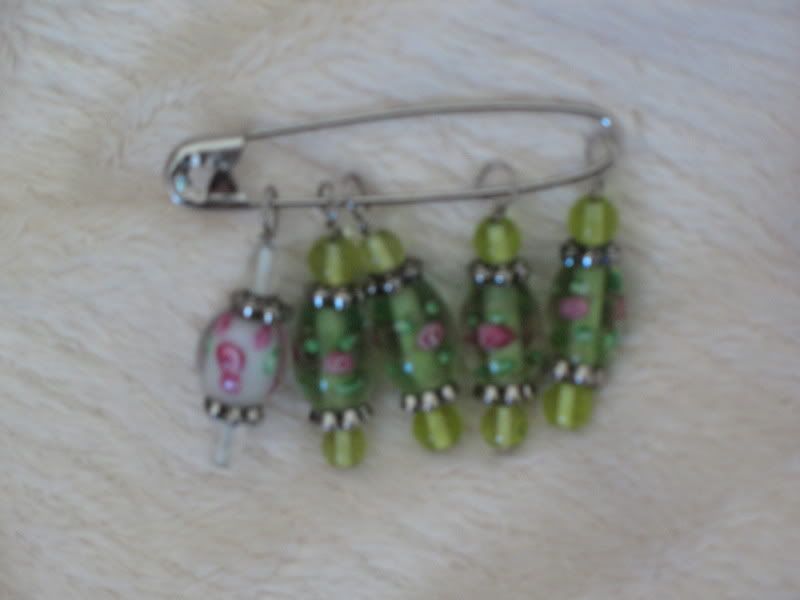 I spoke the the lady that owns Falconer Yarn Loft today. She was calling me back about the bear that I want that I saw in her store before. She was able to speak with the lady that makes them and she said that she will make me one for $50. I should have bought it when it was $40 hehe. She said that she just sold one for $85 so I guess I am getting it at a bargain price. He is made from handspun alpaca yarn and oh so cute. I asked if she would get her to make me one and I will pay him off bit by bit. Its been years since I got a fancy bear and I miss them. All of mine are sitting in Australia at the moment. Oh except for Buzz who is sitting on the cd cabinet. He was sent to me for my birthday. I would love to start collecting handmade bears again. I have 5 of them at the moment. My most special one is sitting in my sisters house right now. Im not sure if its called Bearnapping or Bearsitting but he has been staying there for a few years now and currently resides in Olivia's room. I should be calling her she because her name is Sugar and she is pink. The lady at the Yarn Loft said that she is going to give me the pattern for the bear that I want and some yarn. I think from what she said she would like it if I made some for the store because she loved it too and wants to sell them. She said she doesnt have the time to make them but would love to have them all over her shop. I just hope that the pattern isnt too hard but I will give it a go.