Well I have been dying to post pictures of what I finished this week since Friday night and today I have the chance. I always have trouble taking photos to get the right lighting.

The first photos you see are of the pink bunny pyjama bag that was made for a relatives 1st birthday. She loved it and gave it a big squeezy hug and kiss when it was opened. All the work to get it done this week was worth it when she did that. Her mum thought it was great too.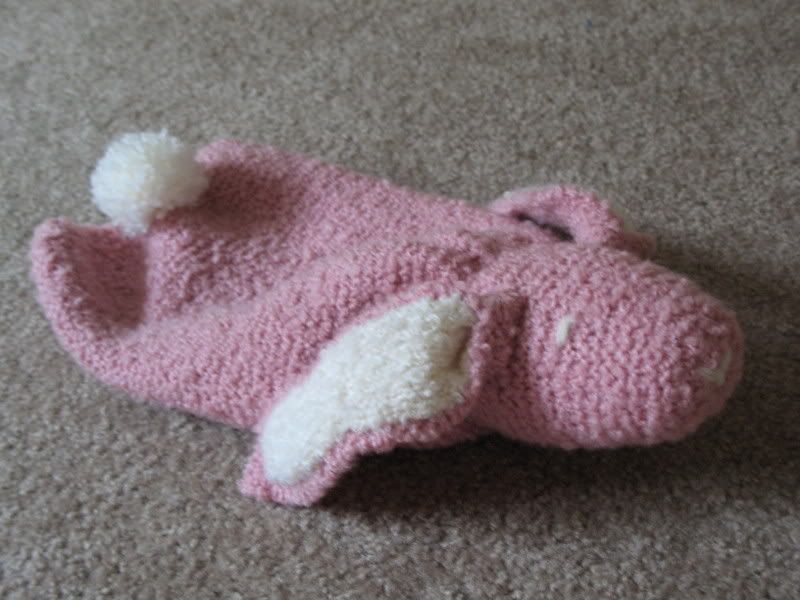 Here is the blue bag that I got finished on Thursday night to have ready for showing to some friends who were interested in buying a bag. This one was liked by all. One lady likes it and is going to get back to me but said if I sold it before then then that was ok. She is going to buy Sagey Goodness Tote. Yay! A bag sale how exciting. She is paying me next week. Megan will be so excited to get at least some colour on her bedroom walls as I promised her I would buy either the pink or orange for her bedroom if I sold a bag this week. This bag is made from an unravelled sweater. I wasnt sure if it would felt at all because its not just wool, its angora as well which actually makes it pretty soft. It has a kind of tweedy look to it but I dont think you can really see the little flecks in the photo. I wanted to get it finished this week and didnt get a chance to go shopping last weekend. I needed handles badly so off to the second hand shop I went. I bought this black and brown bag and clipped the threads attaching these handles and resewed them to my bag. I think it looks really good but it killed my fingers to hand sew through the tough handles and the bag. I got through it one stitch at a time hehe. I was pleased with the outcome so it was worth it in the end.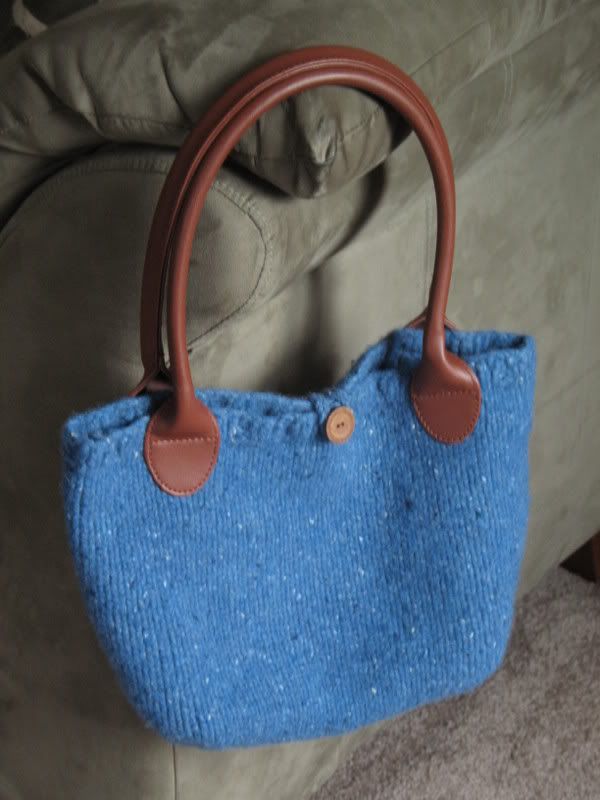 This bag is just a little shoulder bag that you can take along with you when you only need to take a few things. Its made from the left over sagey goodness yarn. I still have a little more of that stuff if you can believe it. I will have to think of something small to make to use it up.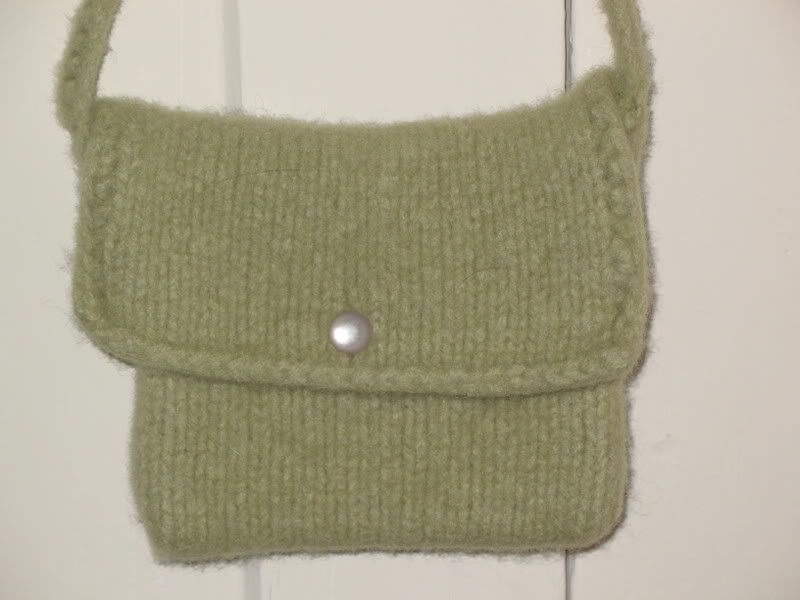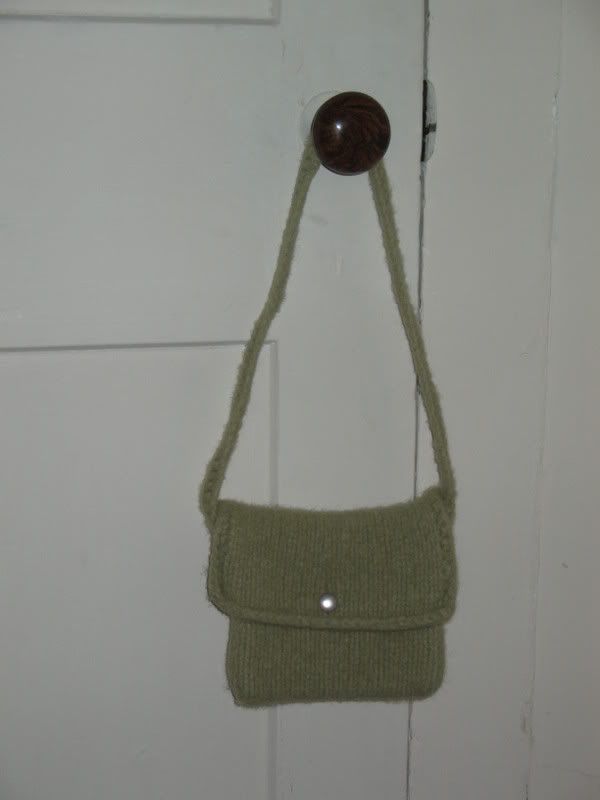 Hmm now that I have all those things finished what is on the agenda for this week. I think this week I need to do a little sewing. I am making a new blanket and bed ruffle for Victoria. I cant finish it this week but I can get it started. She wants a pink and purple room with butterflies and flowers. We found this beautiful white queen sized bedspread that has all these pretty butterflies dotted on the main part and butterflies and flowers on the ruffle. We got it for $2. I am taking it apart and cutting the main part to size, buying some nice soft material to line the back and turning the ruffle into the bed ruffle. If I have confused you I apologize. I will take picture so you can see what I am talking about hehe.

Knitting wise, I should start on another cable pillow for the lounge because the one odd one is looking a little silly hehe. I also have been thinking about making a surprise gift for my online knitting friend. I wont reveal what it will be just yet just in case she checks into this blog and finds out the surprise too early. Hmm Im not sure what else to do. Ahhh yes I do. I just remembered THE POPPY BAG. Will this ever get finished. I want to finish it. I really do. We shall see where inspiration takes me this week hehe.