Victoria had her very first day of Preschool today. She was very excited. She only goes for about 3 hours in the afternoon but she cant get enough of it. She told me all about it when she got off the school bus. Yep she rode the bus to and from school all by herself. Luckily they pick her up right outside our house and drop her off outside our house too, which is going to be very good in the winter time. I think she was surprised at how much fun and how much playing she got to do. We went shopping on the weekend and got her a few new outfits. She got this dress and some mary jane shoes for the first day. She doesnt usually wear dresses but loves the twirliness of this one. She doesnt want to take the shoes off which Im surprised because I thought she was a sneaker girl. They remind me of school shoes we had to wear and groaned about. Oh if your wondering why Victoria has a strange look on her face in this photo, its because apparently you have to say 'Cheese Pizza' when someone takes your photo these days. School photos are next week, can you imagine what they are going to look like hehehe.
Here she is with her Spiderman backpack on because SHE IS SPIDERMAN. She cant wait to go back to school which she will have to wait until Thursday. They start going just about every day starting next week. I think we have another school junkie on our hands.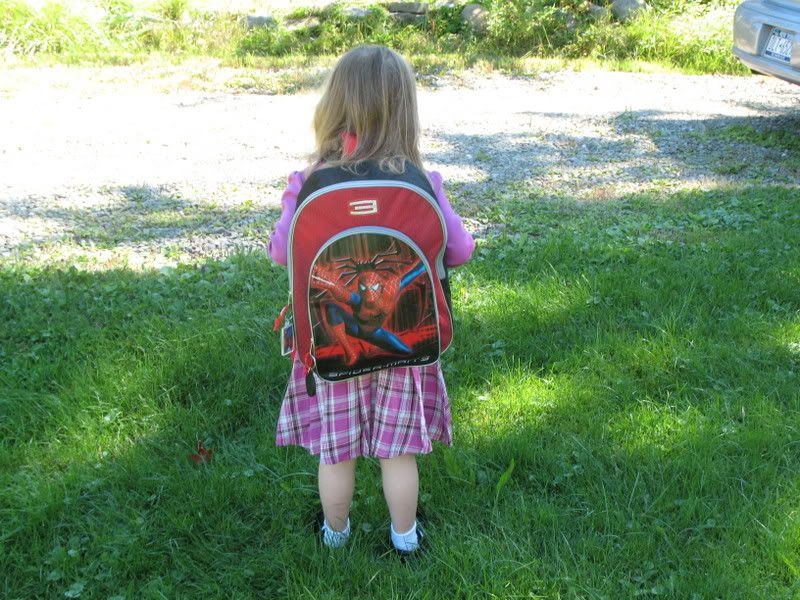 Here are the fingerless mittens all done that I made for myself. I have worn them about three times now. They keep your hands really warm and you can still do things while wearing them. Very excellent.
These are the fingerless mittens that I made for Megan. I like hers better than mine. They are so soft and the colour is great. Its still a secret until her birthday. On the weekend I bought some Caron Simply Soft in Charcoal Heather to make the other fingerless mittens for Megan. I tried the orangey coloured yarn and its too thin for the pattern so I had to find an alternative. I think this colour will go with more outfits. I am hoping to get them started tonight. Only 12 days until Megan's birthday and I still have to knit her some socks. I found a pattern for some sockettes that I could make out of the orangey pink yarn that was too thin for the other project. For some strange reason the pattern doesnt give you a gauge so Im hoping it will still work.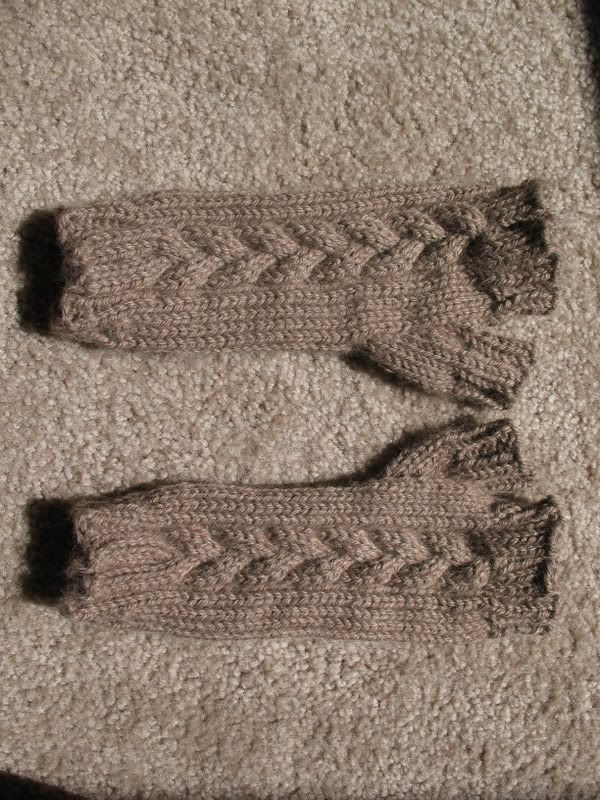 I met a lady who volunteers at the library last week and she is having a baby boy at any time. I have spoken to her a couple of times before but not as much as the other day. She seemed so nice that I thought I would knit her a little gift for her soon to be arriving little boy. It was just a quick little project over the weekend but I hope she likes it. I dropped it off at the library earlier today for the librarian to give to her.