I decided to pop into the local yarn shop on Saturday where two of my monkeys have been for a while for sale. I was going there to find some yarn to make some special presents for Megan's upcoming 13th birthday. Just before we went in Joe asked me if I had heard if any monkeys had been sold and I hadnt heard anything. As soon as we walked in the lady who owns the shop said Im so glad your here because I sold one of your monkeys last week. Yay for me! She said she gives store credit for things that she sells in her shop so I had $35 to spend at a swanky yarn shop. Double yay for me! I took a photo of the things that I got. I bought the brown merino yarn because Im making Megan some cable fingerless mittens for a present. Its so super soft and I scammed her into picking the colour that she likes without knowing its for her. In the photo you can see that I have already made the left one. I love this yarn. Even though its just over $7 a ball, you get alot of yardage and it feels so good on your skin. I would love to buy enough to make a cardigan and the colours it comes in are wonderful. I also got the pink and orange yarn for a second pair of fingerless mittens for Megan but in a different style. She saw a pair in the yarn shop that she loved and I just happen to know where the pattern comes from so she is getting two pairs. I am going to have to go back and buy more of the brown yarn because Megan keeps telling me that she wants me to make her some socks out of the brown and she doesnt know that I am using it for something else. I got the kelly green yarn that is to the left of the orange yarn because its debbie bliss and very soft. I had heard great things about Debbie Bliss yarn and wanted to own some. She only had 3 balls of it left because she's not going to carry it anymore and I thought this was a good chance to get some. Finally I got the bamboo handles for some future bag that I may make that would look good with these handles. I have been forming an idea in my head of how it would look but Im just not sure yet. I got those four things and I still have nearly $5 left to spend the next time I go there. I think that works out nicely.

The other two balls of yarn I got at the local craft shop. The pink yarn is the exact yarn that I needed to finish my pink and brown socks. I was very excited to find that and went home that night and finished them off. I am wearing them right now actually hehe. The other yarn was on sale and it really interested me. It is different shades of green with an underlying metallic sheen in certain spots. I wasnt sure what I was going to do with it but I liked the colour and the price was right. I decided to make myself a pair of the same cabled fingerless mittens that I am making for Megan. You can see that I have made the left one already in that pair. Its interesting to see how different the same pattern turns out just by using a different yarn. I have to say that I like how Megan's ones are turning out a little better than mine.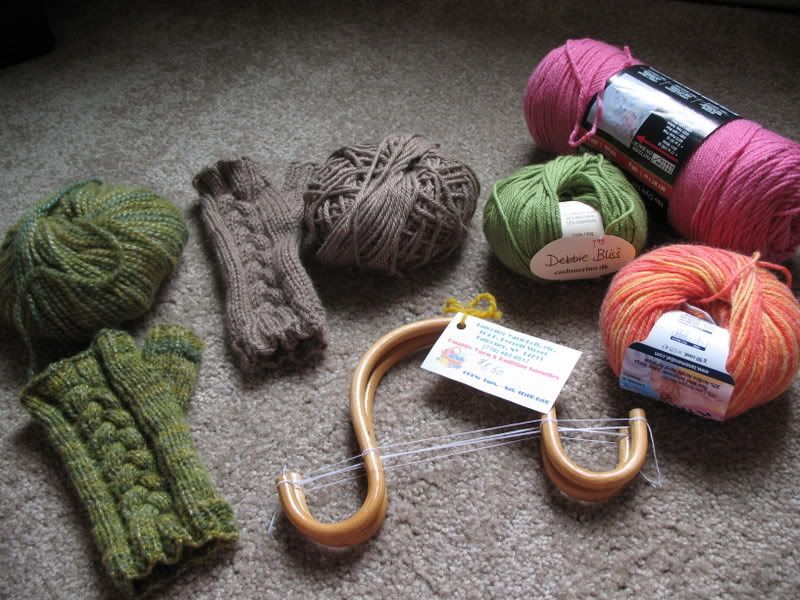 I finally finished sewing up Olivia's Kimono Cardigan last week. I have been dying to post the photos but got too busy to do so, so here they are. A shot of the front and the back. It turned out better than I kept thinking it would but I guess the real test will be when she puts it on. The real trick will be getting it posted as I am the worlds worst mailer.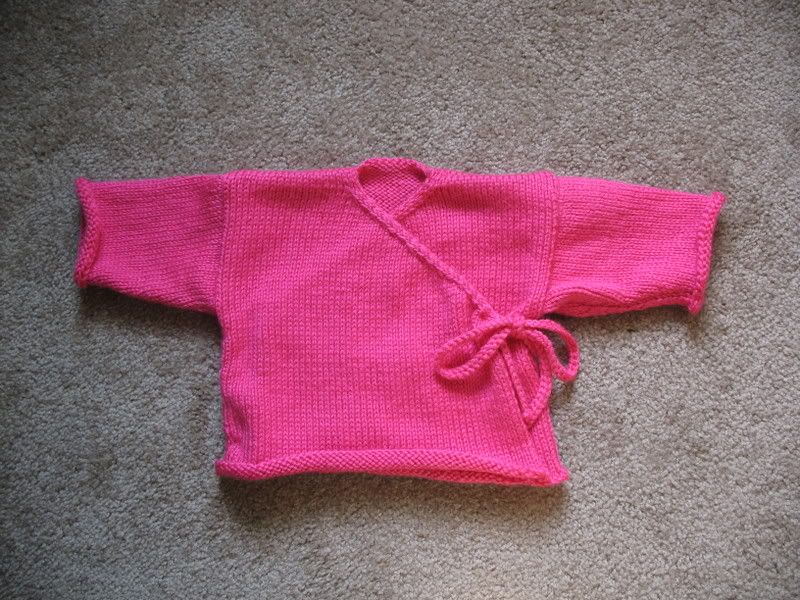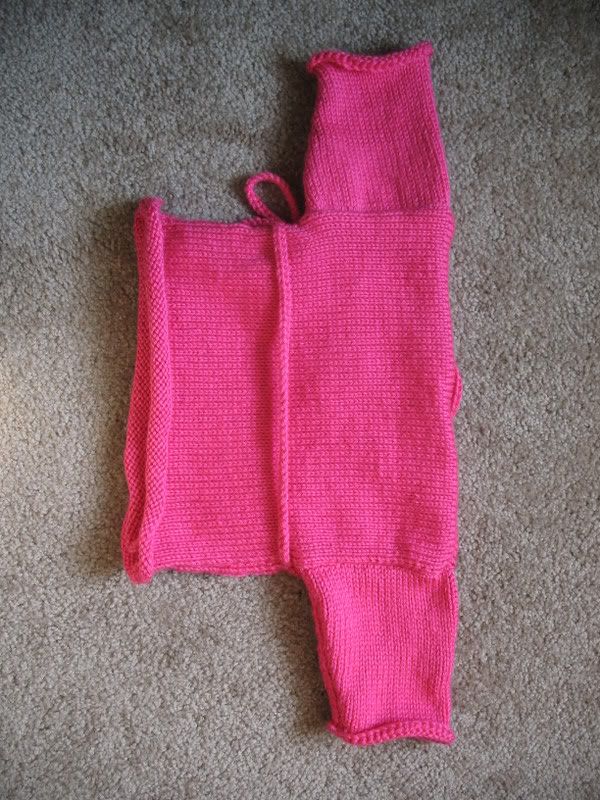 Today we had our visit from Victoria's new preschool teacher. She seems really nice and I think it made it real for Victoria that she is actually going to school. She was very excited today. Her teacher is young. This is her first year of having her own preschool class. Previously she had been a student teacher or helping with preschool programs. I feel so bad for the girl being thrown Victoria on her first year. It will be interesting to see if she is still enthuastic and full of patience as she says she is now hehehehe. I wish her all the luck in the world. Tomorrow Victoria is going for her physical which sucks because she has to get some immunization needles which she will not be happy about. I hate when they get needles because they cry big tears and look at you like why are you letting them hurt me like this, what did I do. But its a necessary thing and if she wants to go to school it has to be done. Afterwards my friend Natalie and I are going to Starbucks, this will be her first time, and I am going to get Victoria a Ginormous rice crispie treat to cheer her up. Friday will be more fun because Victoria will get to visit her classroom again with her new class and take a ride around the block on the bus to find out what its going to be like.

OH this is something exciting! Now it may not seem exciting but people who know me will understand. About 2 weeks ago I finally started painting the kitchen cupboards. Yay for me hehe! I have been putting it off for a very long time and our kitchen has looked crappy because we havent had cupboard doors in ages. I wish I started a couple of months ago because painting time is growing shorter and I still have so far to go. All I have done is prime the doors and finished painting the one side. There are 17 cupboard doors so there is alot. I am trying to think of each step done as an achievement and not thinking of all the extra stuff I still need to do because I become overwhelmed. Once I move onto the 8 drawers that need to be done I will feel more accomplished. I have been trying to paint Megan's trim in her room at the same time. So much painting and so little time. Perhaps when Victoria starts going to school in the afternoon I can get more done. Yeah that sounds like a good plan.