Ive been busy knitting toys for the Falconer Yarn Loft this week. Here is the little bear that I just finished a couple of days ago. Victoria just loves her so she must be alright hehe. She has asked if I could make her one as well. I always have a tricky time with the noses on bears. I dont know why. I decided to embroider some little flowers on her cardigan to make her even girlier. I used some antique silk thread that I bought at Samaritan House and have been dying to use. There are a whole bunch of reels of antique thread in the bundle. When I use it, it makes me wonder what other things this thread was used for all those years ago.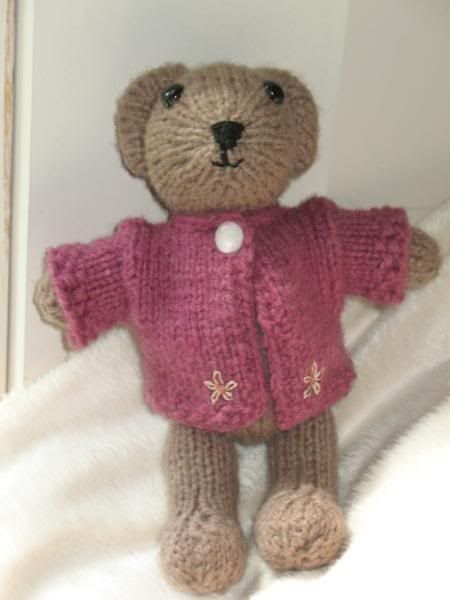 Here is her modest butt shot.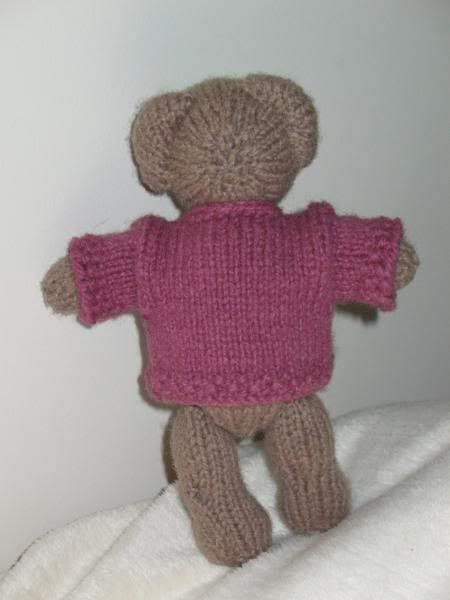 This shows you how little she is. What a sweet little girl she is too.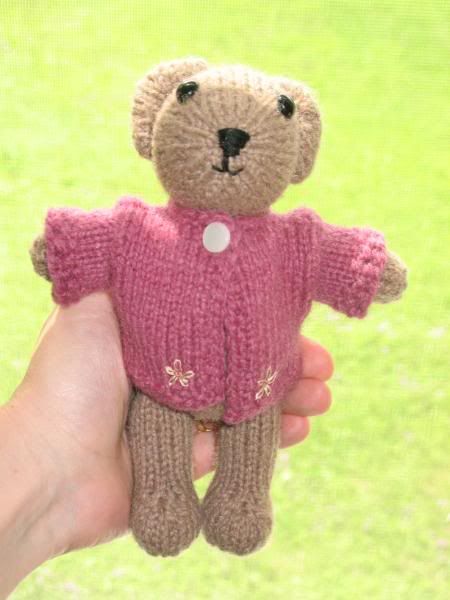 I am currently working on a lamb to go with her. He is just about done. He is just waiting for his jacket to be sewn up and blocked and he will be ready to go. While getting these guys done I realized that I had knit up all the parts to a bear months and months ago and never sewed it together. All that needed to be done is block the pieces. The pieces have been blocked and are now waiting to be sewn together. When I did this pattern I was really nervous about stitching it together but after doing these other guys I feel a little more confident about it.

In the mail today I received my much awaited buttons that I purchased on Etsy last week. I bought them from Gina M Studio and they are even better in person than I thought they would be. I actually only bought the light blue one but she threw in the sea green one as an extra surprise. Yay for me! They are handmade ceramic buttons. They feel so nice to touch as well. It will go perfectly on my green felted bag. Now I feel like I can sit down and finish it. Oh My God, a finished bag hehe. The lady that made these has informed me that she wont be listing any more on Etsy as they take a long time to make. This makes me sad because getting these today makes me want more of them.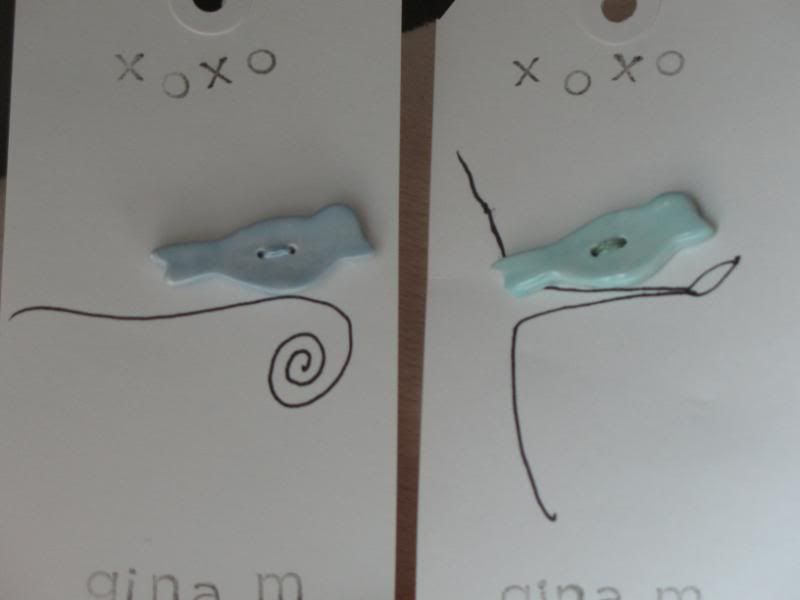 On the home front the girls finished soccer last week. On Saturday we went to the picnic and they got their awards. They were very excited about this part especially Megan. Her team came first in their division and she was one of the best player on her team. In about a week she is going to try out for the Junior Varsity team. I hope she gets in because she really wants to be on the team. She is at a disadvantage of being one of the youngest to try out but she is pretty good player so fingers crossed.

Here is Megan with her very shiny trophy.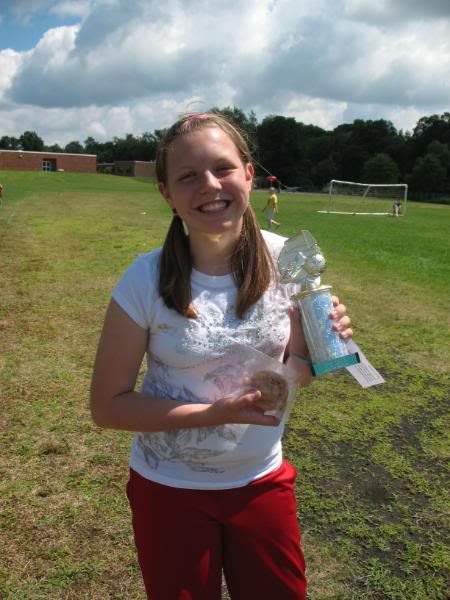 Here is Victoria with her medal. She is very happy that it has her name on it.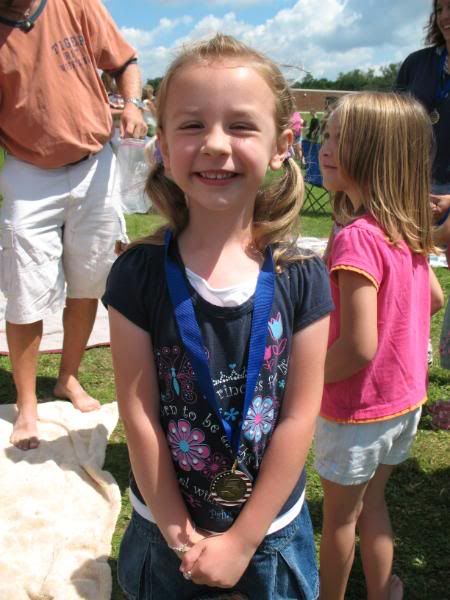 Now for the shop announcement that you read about in the title of this post. I have finally picked a name for my shop. It was very difficult but I am happy with the name. I figured it out myself and other people have told me they like it. My new shop is called.......
Knitted For Ewe
Handmade Cozy Treasures
A big thank you to everyone who gave suggestions, advice and opinions. It really did help alot. I signed up on Etsy the other day and now my little shop is just waiting to get all the trimmings and some goodies in it. I will keep you posted when there is more to look at.